Paavo Nurmi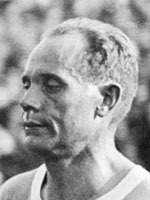 Paavo Nurmi
Date of birth

1897-06-13
Birthplace

Turku
Discipline

middle, long distance
World records

22 (1500m, Mile, 3000m, 5000m, 10,000m, Kilometres run in the hour)
Olympic Games (12 medals - 9 gold, 3 silver)
1500m: 1st (1924)
5000m: 1st (1924), 2nd (1920, 1928)
10,000m: 1st (1920, 1928)
3000m steeple: 2nd (1928)
3000m Teams: 1st (1924)
Cross-Country: 1st (1920, 1924)
Cross-Country Teams: 1st (1920, 1924)
The timeless athlete
If long distance running was in need of a role model, one would have to look no further than Paavo Nurmi. The legendary Finn smashed an incredible 22 world records, winning an impressive 9 Olympic golds on the way.
From the 1500m to the marathon, Nurmi was instantly recognisable - running with watch in hand and his face a picture of pure concentration.
Born in June 1897, his first Olympic foray took place in Antwerp in 1920. Until then, compatriot Hannes Kolehmainen had been the star of the middle distance events, having won gold at the previous Olympiad in Stockholm in 1912.
In the Belgian city however, the older Finn passed the torch of success to his understudy. Nurmi consequently left Antwerp with three gold medals and one silver.
During his adolescence, Nurmi was a relatively average runner, but a lack of interest in the opposite sex, as he himself admitted, allowed him to apply himself 100% to his only real passion.
Scientific approach
Training became his life. A near-scientific approach to his methods earned him such names as the "man-machine" and the "scientific runner".
The "Flying Finn", as he also became known after the man who was first afforded the title, Hannes Kolehmainen, can also be credited with having recognised the benefits of diet and sports psychology.
Thanks to his wide range of methods Nurmi revolutionised middle distance and long distance running for more than a decade.
With the nine titles he won from 1920 to 1928 he remains one of the most decorated athletes in the history of the Olympics, with other "Gods of Sport" such as Carl Lewis, the swimmer Mark Spitz and the gymnast Larissa Latynina.
In 1932 he went to Los Angeles with one goal in mind - to win the marathon. But certain unfolding events deprived him of his dream.
Accused of professionalism, he was banned for life on the evening before the opening ceremony in California. He would have to wait until 1952 before being welcomed back into the Olympic fold, when he was the last runner to light the Olympic flame.
The son of a cabinet-maker, he became a teacher before turning his hand to running a public works company and managing a shirt shop in Helsinki.
Nurmi passed away in October 1973 after falling victim to a heart attack. With 22 world records, he remains one of the most talented athletes of the century.
Copyright 2008 Agence France-Presse.