Al Oerter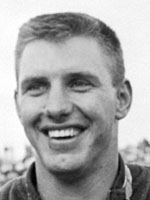 Al Oerter
Date of birth

1936-09-19
Birthplace

Astoria
Height

192 cm
Weight

120.0 kg
Discipline

discus
World records

4
Olympic Games (4 medals - 4 gold)
1st (1956, 1960, 1964, 1968)
Pan American Games (1 medal - 1 gold)
A recipe for Olympic longevity
As one of the self-confessed "old fashioned" Olympians, Al Oerter will always remain in memory as the discus thrower who came from behind to win four consecutive Olympic titles between 1956 and 1968.
An avid childhood fan of football and basketball, Oerter began his Olympic journey at the age of 20 following a maths scholarship to the University of Kansas.
Progressing quickly, he was chosen for the Olympic team for Melbourne where, as an "inspired" outsider, he shocked himself and his team-mate and reigning world record-holder, Fortune Gordien, with a throw of 56.36m.
A near-fatal car crash in 1957 preceded a period of athletics obscurity before the 1960 Games in Rome.
This time, Poland's Edmund Piatkowski and giant compatriot, Richard Babka, who had beaten him in the Olympic trials, proved worthwhile obstacles - as well as a bout of nervous tension that "felt so bad it was like physical pain".
But Oerter was true to his form, and exceeded expectations by throwing a massive 59.18m for a new Olympic record.
In Tokyo, Oerter not only had to contend with Czechoslovakia's reigning world record-holder, Ludvik Danek, but due to a ripped cartilage in his lower rib cage, had to inject himself with novocaine - ignoring doctors' advice to rest for six weeks.
By his fifth throw, and in extreme pain, he threw a huge 61.0m for a new Olympic record and a third consecutive gold medal.
Four golds in one event
Although the definite underdog in 1968, he again shocked by throwing a new Olympic record of 64.78m.
He missed out on further glory in 1972 and 1976 due in part to recurring pain, and the necessity of putting on extra weight in order to compete effectively.
Steroids, Oerter admitted, were not part of his Olympic plan, despite a brief encounter prior to the Montreal Games: "...it (the steroids) caused my blood pressure to go through the ceiling and made no difference at all in my performance," he said, "it's all in the mind".
Surprisingly however, at the age of 43, he attended the Olympic trials in 1980, and trained hard for the Moscow Games.
But the ensuing boycott put paid to his plans and, as manager of a data communications firm, Oerter stood back from the athletics limelight to concentrate on his career.
He is one of the very few athletes to have won four consecutive Olympic gold medals in a single event.
He died of a heart attack in Florida On October 1, 2007.
Copyright 2008 Agence France-Presse.