Kristin Otto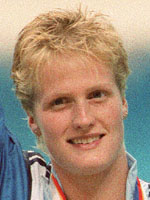 Kristin Otto
Date of birth

1966-02-07
Birthplace

Leipzig
Height

185 cm
Weight

70.0 kg
Disciplines

freestyle, butterfly, backstroke, relays
World records

7 (100 y 200m freestyle, 50m backstroke, 4x100 y 4x200m freestyle relay, 4x100m medley relay)
Olympic Games (6 medals - 6 gold)
50m freestyle: 1st (1988)
100m freestyle: 1st (1988)
100m backstroke: (1st (1988)
100m butterfly: 1st (1988)
4x100m freestyle relay: 1st (1988)
4x100 medley relay: 1st (1988)
World Championships (9 medals - 7 gold, 2 silver)
50m freestyle: 2nd (1986)
100m freestyle: 1st (1986)
100m backstroke: 1st (1982)
100m butterfly: 2nd (1986)
200m individual medley: 1st (1986)
4x100m freestyle relay: 1st (1982, 1986)
4x100m medley relay: 1st (1982, 1986)
European Championships (11 medals - 9 gold, 1 silver, 1 bronze)
100m freestyle: 1st (1987), 2nd (1983)
100m backstroke: 1st (1987, 1989)
200m backstroke: 3rd (1989)
100m butterfly: 1st (1987)
4X100m freestyle relay: 1st (1983, 1987)
4x200m freestyle relay: 1st (1983)
4X100m medley relay: 1st (1987, 1989)
Queen Kristin proclaimed Olympic sprint champion
East Germany's Olympic swimming champion Kristin Otto is truly unique for the display of talent in three separate styles which brought her six gold medals during the Seoul Games of 1988.
Born in 1966, Otto's early swimming career began and lasted for six years while her father, a physical education professor, completed a post in the Volga, USSR.
When she returned to her home city of Leipzig, she was soon noticed by local coaches.
Her international career also began early. As a 16-year-old at the world championships in 1982 she won the 100m backstroke and another two gold medals in relay events.
A year later, she became the first woman to swim that same event in under a minute (59.97).
Doping suspicion
Unable to go to the Games in Los Angeles due to the boycott, the blond-haired collector of miniature books responded by setting a new world record in the 200m freestyle (1:57.75).
Retiring temporarily from the sport in 1985 due to a move to the city of Magdebourg, and because of serious back problems (a cracked vertebrae), Otto returned to action in 1986, although unable to swim the backstroke, she concentrated on the crawl.
Returning to Leipzig under the onus of her coach Stefen Hetzer, Otto went on to reap more medals during the world championships in Madrid.
As well as setting a world record in the 100m (54.73 sec), the 20-year-old communist party member won two golds and two silvers.
The European championships the following year also proved fruitful - furnishing five gold medals before she settled down to outline her plans for the Olympic Games in South Korea.
In Seoul, "Queen" Kristin reigned supreme in all 100m events, excluding the breaststroke but including the individual and relay events. She also added the 50m freestyle title, just for good measure.
A year after Seoul, Otto retired from competition. But ten years after this exploit, and having trained to become a broadcast sports journalist, the authenticity of Otto's past exploits came under threat when new revelations claimed that East-German swimmers were systematically administered performance-enhancing drugs during the 1980's.
The doubts remain today.
Copyright 2008 Agence France-Presse.