Steve Ovett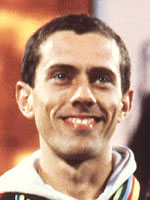 Steve Ovett
Date of birth

1955-10-09
Birthplace

Brighton
Height

183 cm
Weight

70.0 kg
Discipline

middle distance
World records

5 (1500m, mile)
Olympic Games (2 medals - 1 gold, 1 bronze)
800m: 1st (1980), 5th (1976), 8th (1984)
1500m: 3rd (1980)
European Championships (3 medals - 1 gold, 2 silver)
800m: 2nd (1974, 1978)
1500m: 1st (1978)
World Cup (2 medals - 2 gold)
European Cup (2 medals - 2 gold)
800m: 1st (1975)
1500m: 1st (1977)
Ovett and Coe battle for supremacy
Britain's Steve Ovett was one of the greatest middle distance runners of his generation and his battles with compatriot and rival Sebastian Coe generated headlines around the world during the 1970's and 80's.
Arguably the highlight of a smashing career was the shock defeat Ovett inflicted on hot favourite Coe during the 800m Olympic final in 1980, although there were also several world records smashed by the runner from coastal town Brighton.
Moscow in 1980 was the scene of two dramatic races in the quest for Olympic gold.
In a strange twist Ovett stunned Coe in his favoured 800m while a few days later in the 1500m race, the roles were reversed as Coe won a deserved title that Ovett, undefeated in 42 races over the distance, had been tipped to win.
Ovett began to show his potential as a 17-year-old when he won the European 800m junior title in 1972, and two years later he finished second in the senior event coming home behind Yugoslav Luciano Susanj.
His rise continued as he established himself as a 1500m specialist and picked up his most illustrious scalp to date in 1977, outkicking Olympic 1500m champion John Walker of New Zealand to the line in a World Cup race in Dusseldorf.
Records tumble
As the Moscow Games approached, Coe and Ovett consistently smashed world records over 800m, 1500m and the mile and this trend continued after the Olympics when another Briton got in on the act, this time Steve Cram.
Despite injuries in 1982, Ovett smashed the 1500m record for the last time in 1982 lowering the mark to 3min 30.77 sec, a mark that lasted three years before the Newcastle runner Cram wrote his own page of history.
Chronic asthma plagued the end of Ovett's career and he was a shadow of his former self at the Los Angeles Games of 1984 finishing dead last in the 800m final.
He then spent two nights in hospital but somehow managed to be on the track for the 1500m race only to drop out while Coe went on to win gold.
In 1999, he was awarded the OBE (Order of the British Empire) for his achievements and has had a successful career as a television commentator as well as working as an athletics administrator.
Copyright 2008 Agence France-Presse.