Shawn Johnson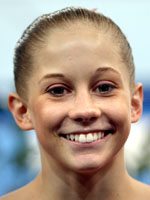 Shawn Johnson
Date of birth

1992-01-19
Birthplace

Des Moines
Height

152 cm
Weight

38.0 kg
Discipline

All-around, floor, uneven bars, balance beam, vault
Coach

Liang Qiao Chow
World Championships (3 medals - 3 gold)
All around: 1st (2007)
Floor: 1st (2007)
Team: 1st (2007)
Pan American Games (4 medals - 4 gold)
All-around: 1st (2007)
Floor: 2nd (2007)
Balance beam: 1st (2007)
Uneven bars: 1st (2007)
Team: 1st (2007)
Crowd lover enjoys favourite tag
After becoming America's fourth ever women's gymnastics world all-around champion in 2007, the then 15-year-old Shawn Johnson warned there would be more to come and switched her gaze firmly on the Beijing Olympics.
At those 2007 worlds in Stuttgart, Germany, Johnson upstaged Chinese veteran Yang Wei to win the all-around title finishing 1.250 ahead of Romania's Steliana Nistor and defending champion Vanessa Ferrari of Italy, who shared bronze with Brazil's Jade Barbosa.
The girl from Iowa went to Stuttgart as a largely unknown newcomer and left as the most titled gymnast of the championships having been part of the gold medal winning US women's team and claiming the 2007 floor gold too despite a penalty for stepping out of bounds.
In fact, during her all-around bid she had scored top marks in both floor and beam, but a fall from the beam in the individual event crushed any chance of a gold there.
But no sooner had she completed her routines than her aim was focused on next year's Olympics, for which she is training four hours per day on new routines with her coach of ten years standing Liang Chow, a former captain of China's men's team.
"I love the crowd, love being favourite. It makes you want to do even better. It's definitely a motivator for next year," said Johnson, who showed nerves of steel in her world topping performance.
It had been a magnificent year for Johnson who won four gold at the 2007 Pan American Games with team, all-around, floor and balance beam victories.
Have friends will travel
Born in Des Moines Iowa January 19, 1992 an early sign of excellent mobility was the stunning fact she began to walk at nine months and she managed to climb out of her playpen before her first birthday.
Taken to gym at age three she has been in serious training since the age of six. She names her sporting hero and person she'd most like to meet as seven-time winner of cycling's Tour de France, Lance Armstrong.
Outside gymnastics she likes to bake and draw, has had her own short stories published, enjoys horse-riding and is keen on motorbikes.
She also says the thing she likes the best about international gymnastics is the travel and opportunity to meet new people. She's also planning to take her pals out to Beijing for the Games. When she is finished with gymnastics she'd like to become a doctor.
Results
Copyright 2008 Agence France-Presse.