Marie-Jose Perec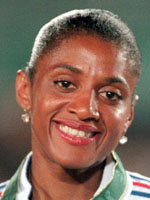 Marie-Jose Perec
Date of birth

1968-05-09
Birthplace

Basse-Terre
Height

180 cm
Weight

60.0 kg
Discipline

200m, 400m
Olympic Games (3 medals - 3 gold)
200m: 1st (1996)
400m: 1st (1992, 1996)
World Championships (2 medals - 2 gold)
European Championships (3 medals - 2 gold, 1 bronze)
400m: 1st (1994), 3rd (1990)
4x400m relay: 1st (1994)
"La" Diva
French sprinter Marie-Jose Perec dominated the 400m in the 1990's when she won two Olympic and two world titles over that distance and also added a 200m Olympic title to her booty thanks to great natural talent, a penchant for hard work, determination and courage.
Only her relationship with the media can be singled out as a weak point.
The French woman was a triple Olympic champion, having won the 1992 400m title in Barcelona and then pulling off a rare double at Atlanta 96, where she won both the 200m and 400m races. A feat which catapulted her to superstar status.
American great Michael Johnson also won the 200m-400m double gold in Georgia, and both of them thus assured their places in athletics folklore.
Born in Guadeloupe, Perec left the island at the age of 16 to exploit her talents on the French mainland.
This easily offended perfectionist often changed coach and counted among her trainers Frenchmen François Pépin, Michel Drach and Jacques Piasenta before working under Americans John Smith (coach to the superstars) and Brooks Johnson.
German taskmaster Wolfgang Meier, the coach and husband of 400m world record holder Marita Koch, has also worked with Perec
She's won it all
Perec was gifted with a wonderful stride and was just 23 when she became the 400m world champion. But she is cursed with nerves and often vomited violently following her races.
Nevertheless, Perec won it all: European champion in 1994, world champion in 1991 and 1995 and Olympic champion in 1992 and 1996.
She is also the first woman to have won the 400m Olympic title twice and the second to do the 200m-400m double after American Valerie Brisco-Hooks.
Injury has blighted her career and she has missed a string of major tournaments, above all in 1990, 1993 and 1997.
In March 1998 she suffered from a bout of serious exhaustion and a form of mononucleosis and myocardium as well as the Epstein-Barr virus, which caused her heart problems.
All this meant she gained 12kg in weight and put her out of action for another full year.
One of the much anticipated clashes of the Sydney Games in 2000 was to pitch Perec into a hyped up showdown with Australian national hero and 1999 world champion over 400m Cathy Freeman. But the pressure got to her and yet another chance for glory went begging.
The mystery of Sydney
The habitual instability was in evidence six months ahead of Sydney as she quit her prestige coach John Smith to link up with Meier in Rostock, Germany.
On arrival Down Under she was greeted by the traditionally aggressive Aussie brand of reporting and may also have been unnerved when checking into a central Sydney Hotel that was directly opposite a gigantic billboard of her rival Freeman.
Though accompanied by boyfriend Anthuan Maybank Perec claimed she was harrassed at the Hotel , both in a car park and at her room, by an intruder. The Hotel denied any knowledge and offered CCTV cassettes in their defence.
Perec quit Sydney in disgust turning her back on the Games and leaving her fans, the organisers and the media in confusion.
There was a predictably negative reaction and sponsors even revoked contracts with the great athlete.
However, she did not throw in the towel and announced in February, 2003 her intentions to compete at the world championships that year in Paris, only for injury again to intervene.
She would never regain her gold medal form and finally quit the sport for good in 2004 appearing only at the Athens Games as a television consultant.
Copyright 2008 Agence France-Presse.