Steven Redgrave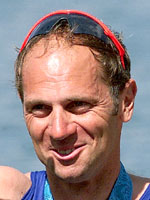 Steven Redgrave
Date of birth

1962-03-23
Birthplace

Marlow
Height

193 cm
Weight

103.0 kg
Discipline

coxless pairs, coxed pairs, coxless fours, coxed fours
Olympic Games (6 medals - 5 gold, 1 bronze)
Coxless pairs: 1st (1988, with Andrew Holmes/1992, 1996 with Matthew Pinsent)
Coxed pairs: 3rd (1988)
Coxless fours: 1st (2000)
Coxed fours: 1st (1984)
World Championships (12 medals - 9 gold, 2 silver, 1 bronze)
Coxless pairs: 1st (1987, with Andrew Holmes/1991, 1993, 1994, 1995 with Matthew Pinsent), 2nd (1989), 3rd (1990)
Coxed pairs: 1st (1986, with Andrew Holmes), 2nd (1987)
Coxless fours: 1st (1997, 1998, 1999)
Fantastic Five for Redgrave
Great Britain's now legendary rower Steve Redgrave pushed his ageing body through more gruelling punishment at the Sydney Olympics as he won his fifth gold medal at consecutive Games - a feat never before achieved in endurance events.
After previous victories from Los Angeles (1984) to Sydney 2000, he finally retired from the sport in 2000, and was given a knighthood for his remarkable achievements.
Rowing has its roots in England, so it is barely surprising that an Englishman, Redgrave, would come to achieve unprecedented results in the history of the sport.
A strong and agile athlete, Redgrave first began rowing by himself, although those first ripples made on the water were met by little success.
It was only when he joined a team, and when somebody told him at the age of 14: "you're going to be a world champion one day," that the young prospect really began to make waves.
Shy at school, by the time he had exploded onto the Olympic scene in Los Angeles, Redgrave had good reason to hold his head high - winning gold in the coxed four-oar event.
Three other consecutive Olympic golds were later won in the coxless pairs event, with Andrew Holmes (1988) and Matthew Pinsent (1992 and 1996).
Rewarded with a knighthood
The rower with the most medals from the Olympic Games, Redgrave also won nine world championships between 1986 and 1999, a record his partner Matthew Pinsent would go on to beat.
"I never want to see another boat in my life - I should be shot if anyone ever sees me going near one," he affirmed after his Olympic wins in Atlanta. Six months later, following some family advice, he decided to take up the oars again, though of course nobody shot him.
British coxless four competitors (L to R) Matthew Pinsent, Tim Foster, Steven Redgrave, James Cracknell row 17 September 2000, during the first heat on Penrith Lake (west of Sydney). The team qualified for the semifinals with a time of 6'01"58. AFP PHOTO THOMAS COEX
In the coxed fours team, along with ex-partners Pinsent, James Cracknell and Tim Foster, he triumphed in 1997 and 1998.
He trained 26 hours per week - a total of more than 10,000 km per year in preparation for Sydney and the hard work paid off handsomely as Britain held off a tough Italian challenge to give Redgrave his historic victory.
Rewarded with his knighthood, he will now be able to look back on a thouroughly satisfying career which has forever left its mark on the Olympic history books.
Copyright 2008 Agence France-Presse.