Abebe Bikila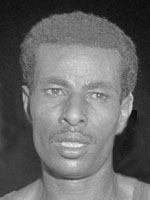 Abebe Bikila
Date of birth

1932-08-07
Birthplace

Baruga
Height

177 cm
Weight

57.0 kg
Discipline

marathon
World Records

2
Olympic Games (2 medals - 2 gold)
The shoeless wonder runner leads the way
During the 1960 Olympic marathon in Rome, it was hard to decide the most surprising fact about the winner, Abebe Bikila.
Was it that the unknown Ethiopian ran the 42.195km barefoot, or the fact that it was only his second ever marathon?
In essence, these facts mattered little - Bikila consequently entered Olympic history with a world best time of 2:15:16.2, in the process becoming the first black African Olympic champion.
Symbolically, he won his title in the capital city of the former colonial empire which ruled his country, and near the exact same spot from where Mussolini had deployed his troops to conquer Ethiopia 25 years previously.
Born into a modest farming family in Southern Ethiopia, he became an imperial guard at Emperor Haile Selassie's palace, before coming to prominence in the military championships.
A Finnish coach, Omni Niskanen, trained Bikila until his victory in the Italian capital. On his return, the slimline runner was hailed a hero, the Emperor offered him a car, a pension for life and an apartment.
Yet shortly after his return, a revolt erupted at the Imperial Palace and the entire Guard were arrested and shot. Bikila, however, escaped death thanks to the intervention of the Emperor.
New shoes - and victory
For the 1964 Games in Tokyo there was hesitation in selecting Bikila, due mainly to an appendix operation he had undergone five weeks previously.
This time with shoes, he again dominated the race, setting a new world best time of 2:12:11.2. Subsequently, he was promoted to the rank of lieutenant.
Four years later in Mexico, Bikila was forced to retire after only 17km due to a foot injury.
Married with four children, Bikila, sadly, was paralysed following a road accident in 1969, although before his death from a brain haemorrhage in 1973, he took part in the 1969 Stoke Mandeville Games, precursor to the Paraplegic Games, as an archer.
His funeral procession was a momentous occasion, with the Emperor declaring a day of national mourning.
Copyright 2008 Agence France-Presse.