Matt Biondi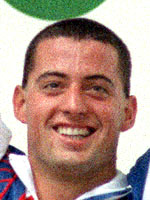 Matt Biondi
Date of birth

1965-10-08
Birthplace

Moraga
Height

201 cm
Weight

91.0 kg
Discipline

freestyle, butterfly
World records

12 (50m and 100m freestyle, 4x100m and 4x200 freestyle relay , 4x100m medley relay)
Olympic Games (11 medals - 8 gold, 2 silver, 1 bronze)
50m freestyle: 1st (1988), 2nd (1992)
100m freestyle: 1st (1988), 5th (1992)
200m freestyle: 3rd (1988)
100m butterfly: 2nd (1988)
4x100m freestyle relay: 1st (1984, 1988, 1992)
4x200m freestyle relay: 1st (1988)
4x100m medley relay: 1st (1988, 1992 did not take part in the final)
World Championships (11 medals - 6 gold, 2 silver, 3 bronze)
50m freestyle: 2nd (1991), 3rd (1986)
100m freestyle: 1st (1986, 1991)
200m freestyle: 3rd (1986)
100m butterfly: 2nd (1986)
4x100m freestyle relay: 1st (1986, 1991)
4x200m freestyle relay: 3rd (1986)
4x100m medley relay: 1st (1986, 1991)
Pan Pacific Championships (19 medals - 14 gold, 3 silver, 2 bronze)
50m freestyle: 1st (1985), 2nd (1987, 1991)
100m freestyle: 1st (1985, 1987, 1991)
200m freestyle: 2nd (1985)
100m butterfly: 1st (1991), 3rd (1985, 1987)
4x100m freestyle relay: 1st (1985, 1987, 1991)
4x200m freestyle relay: 1st (1985, 1987)
4x100m medley relay: 1st (1985, 1987, 1989, 1991)
The Moraga torpedo
The Californian Matt Biondi arrived at the Seoul Olympic Games with great expectations sitting upon his broad shoulders as the first man to swim the 100m in under 49 seconds (48.95), he looked a decent bet to equal Mark Spitz's seven gold medals from the Munich Games.
Biondi did win seven medals in the South Korean capital - however not all were gold.
Added to his five gold, he won silver in the 100m butterfly, beaten by one hundredth of a second by Surinam's Anthony Nesty, and a bronze in the 200m freestyle.
Born in 1965, Biondi's childhood was spent shared between studies and leisure pursuits - including playing football, the piano, singing in the University choir - reserving what little time was left for the odd game of basketball.
A few days before the Games, the "Moraga torpedo" gave an indication of his form when he improved his 100m record with a time of 48.42sec during the US Olympic trials.
Although he did not equal Spitz's record, the Californian marked his arrival into the hallowed club of Olympians whose medal exploits are of legendary status - a club composing such names as Paavo Nurmi, Vitaly Scherbo and Nedo Nadi. Just to finish off his Olympic campaign, he also beat the 50m world record in 22.14 sec.
On terms with Spitz
Like Spitz, Biondi immediately announced his retirement from swimming at the age of 22, but following some time spent playing water-polo, Biondi returned to competition, albeit due to the lure of the big-money sponsors' contracts - most of whom were keen to see him compete in the Barcelona Games (1992).
Unfortunately, the Games coincided with the arrival of a new kid on the block, Russia's Alexander Popov, who took his Olympic 50m title. Biondi had to content himself with two relay golds (400m medley and the 4x100m freestyle). In this last distance, Biondi gathered his third consecutive Olympic gold.
In April 1993, Biondi retired definitively from competition with eight titles from three Olympiads, and 11 medals - making him the most decorated Olympic swimmer ever along with Mark Spitz.
He also won 11 world championship medals including six gold.
He graduated with a masters degree in sociology in 2000.
Copyright 2008 Agence France-Presse.