Wilma Rudolph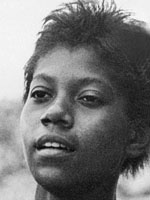 Wilma Rudolph
Date of birth

1940-06-23
Birthplace

St Bethleham
Height

180 cm
Weight

59.0 kg
Discipline

100m, 200m, 4x100m relay
World records

5 (100m, 200m, 4x100m)
Olympic Games (4 medals - 3 gold, 1 bronze)
100m: 1st (1960)
200m: 1st (1960)
4x100m relay: 1st (1960), 3rd (1956)
Pan American Games (1 medal - 1 silver)
The Black Gazelle
That Wilma Rudolph even made it to the Olympic starting gate, let alone strike gold, was a major accomplishment in itself.
The 20th child in a family of 22 contracted pneumonia and scarlet fever at the age of four, and later succumbed to a mild attack of polio which caused shrinkage in her left leg.
The illness forced the American to wear a brace until the age of nine and then an orthopaedic shoe.
But a supportive mother and caring brothers took it in turns to rub down her legs every day and she shrugged aside her physical imperfections to join in the occasional game of basketball.
Whether it was being helped by others, or simply raw talent, the young Rudolph was determined that nothing would stand in her way.
First steps to greatness
That determination proved to be the driving force when Wilma went on to set a Tennessee state record 49 points in a high school basketball game.
Athletics however was her forte, and when she was only 16, she made her first appearance at the Olympic Games, returning from Melbourne in 1956 with a bronze medal from the 4x100m relay.
Four years later in Rome Rudolph did not let her supporters down, taking the 100m gold in a wind-assisted world record time of 11.0 sec.
Nicknamed the "Black Gazelle", and an inspiration for future women athletes such as Florence Griffith-Joyner and Jackie Joyner-Kersee, the tall slimline athlete lifted two further titles in the 200m and the 4x100m relay, in the process becoming the first American woman to win three golds and ultimately, the first woman to run 200m in under 23 seconds.
She retired early at 22, and went on to set up The Wilma Rudolph Foundation, a non profit-making organisation supporting academic and athletic activity for underprivileged children.
"Wilma", her autobiography, was turned into a film in 1977, 17 years before her death from brain cancer in Nashville, Tennessee in 1994.
She was 54 years old.
Copyright 2008 Agence France-Presse.