Felix Savon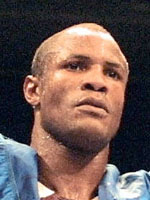 Felix Savon
Date of birth

1967-09-22
Birthplace

San Vicente
Height

198 cm
Weight

91.0 kg
Category

heavyweight (-91 kg)
Olympic Games (3 medals - 3 gold)
World Championships (7 medals - 6 gold, 1 silver)
1st (1986, 1989, 1991, 1993, 1995, 1997), 2nd (1999)
Pan American Games (3 medals - 3 gold)
In the footsteps of Stevenson and Papp
At the Sydney Games in 2000, Cuban boxing great Felix Savon entered the history books as only the third boxer ever to win three straight Olympic titles.
His exploit puts the heavyweight alongside compatriot and idol Teofilo Stevenson (1972, 1976, 1980) and the Hungarian middleweight Lazslo Papp (1948, 1952, 1956) as the only boxers in this category.
With a record six heavyweight titles from the world championships (91kg), and previous Olympic golds at Barcelona (1992) and Atlanta (1996), Savon was an explosive and tenacious boxer who is no less known for his technical skills - gleaned from a Cuban boxing school which is one of the best in the world.
His impressive record of six world titles could have even been greater when he reached the final in 1999 only for the Cuban delegation to pull out of the competition in protest at what they thought was poor officiating.
Olympic focus
Originally from San Vicente, a rural region in Guantanamo province in the east of the island, Savon was in primary school when his future in the ring was already decided.
His physique, and punch, did the rest and he is now widely regarded as Stevenson's rightful heir.
Opinionated, Savon has managed to hone his public speaking skills and also follow university studies during his sports career.
Brought up in a close-knit yoruba (Nigerian origin) community, Savon consulted his "godmother" prior to important fights, even though he willingly recognised that "the best medicine is training".
"The Olympic Games have been my ambition all my life," admitted Savon on a regular basis. As might be imagined with Stevenson, Savon ignored the call to the professional ranks.
In the 1997 world championships in Budapest, Savon lost his fight against Uzbekistan's Ruslan Shagaiev, but the Uzbek was disqualified the following year for professionalism and the Cuban was left to collect his 6th world title.
In January, 2001, Savon hung up his gloves for good after a glittering 15-year amateur career and in July of the same year, he was awarded the Olympic order.
In December, 2002, he decided to turn his talents to training and now guides up and coming youngsters in the world of boxing.
Recognised world-wide as one of the all-time greats, he is also seen as a shining light under Fidel Castro's Cuban regime.
Copyright 2008 Agence France-Presse.