Vitaly Scherbo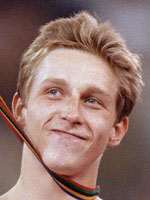 Vitaly Scherbo
Date of birth

1972-01-13
Birthplace

Minsk (USSR)
Height

169 cm
Weight

60.0 kg
Discipline

gymnastics
Olympic Games (10 medals - 6 gold, 4 bronze)
All-around: 1st (1992), 3rd (1996)
Teams: 1st (1992)
Pommel horse: 1st (1992)
Rings: 1st (1992)
Vault: 1st (1992), 3rd (1996)
Parallel bars: 1st (1992), 3rd (1996)
Horizontal bar: 3rd (1996)
World Championships (23 medals - 12 gold, 6 silver, 5 bronze)
All-around: 1st (1993), 2nd (1991, 1995), 3rd (1994)
Teams: 1st (1991)
Floor: 1st (1994, 1995, 1996), 2nd (1991, 1992), 3rd (1993)
Pommel horse: 1st (1992)
Rings: 1st (1992)
Vault: 1st (1993, 1994), 2nd (1991), 3rd (1995)
Parallel bars: 1st (1993, 1995), 2nd (1996)
Horizontal bars: 1st (1994), 3rd (1991, 1996)
European Championships (18 medals - 10 gold, 4 silver, 4 bronze)
All-around: 2nd (1996), 3rd (1992)
Teams: 1st (1994), 3rd (1996)
Floor: 1st (1990, 1992, 1996)
Pommel horse: 2nd (1992)
Rings: 2nd (1992)
Vault: 1st (1990, 1992, 1994, 1996)
Parallel bars: 1st (1996), 3rd (1992)
Horizontal bars: 1st (1990), 2nd (1994), 3rd (1996)
World Cup (1 medal - 1 silver)
Close to gymnastics perfection
With his six Olympic gold medals, Belarus gymnast Vitaly Scherbo took an automatic leap into the annals of the tournament's history alongside some of the athletes whose medal exploits he bettered at the 1992 Olympic Games in Barcelona
Competing under the colours of the Community of Independent States (C.I.S.), he surpassed such legends as Jesse Owens (4 - 1936) and Carl Lewis (4 - 1984).
Scherbo's feats can perhaps best be measured by the fact that he only won one less Olympic gold than American swimmer Mark Spitz (7 - 1972).
Four years later in Atlanta, Scherbo again attempted to enter the record books by winning another three gold medals, to make nine in total - a feat that would have stood him equitably alongside the legendary Finnish athlete Paavo Nurmi, the Soviet gymnast Larissa Latynina, and Spitz.
But Scherbo's campaign was scuppered by injury - to his ankles, wrists, shoulders, back and neck - and the stress from travelling, forcing him to "content himself" with four bronze medals in his final Olympic appearance.
It was still a fine exploit considering the fact that, prior to the Olympics, all his medals and savings were stolen during a burglary on his appartment.
A Soviet prodigy
Born in Minsk on January 13, 1972, Scherbo became a member of the Soviet national team at the age of 15.
Three years later, he became national champion. However, if not for a chance visit with his mother to a local gym Scherbo might never have had the chance to try his luck on the apparatus.
In trying his luck while his mother talked to her friends, Scherbo found himself a vocation - one which, after years of dedication and hard work, led to near-perfection and mastery of almost every gymnsatics movement.
He was somewhat of an unappreciated champion. Rarely seen smiling, and rather mechanical during performances, the Belarussian was never the darling of the public or the media despite his extraordinary moves and results.
Vitaly Scherbo currently lives with his wife and daughter in Las Vegas and runs his own gymnasium as well as spending time reading, walking and fishing.
Copyright 2008 Agence France-Presse.