Tommie Smith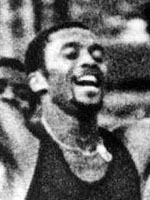 Tommie Smith
Date of birth

1944-06-12
Birthplace

Ackworth (Texas)
Height

190 cm
Weight

78.0 kg
Discipline

200m, 400m, 4x400m relay
World records

9 (200m, 400m, 220 yards, 440 yards, 4x400m)
Olympic Games (1 medal - 1 gold)
A gold medal and black glove
What happened on October 16 in Mexico City's Olympic stadium will always be remembered as one of the most controversial events in the history of the Games.
On the podium for the 200m stood two black Americans, Tommie Smith on the highest step, while John Carlos stood two steps below.
Wearing black socks and black berets, they stood beside silver medal-winner, Australian Peter Norman, who also sported a badge on his chest in support of their cause - the American civil rights movement.
As the "Star Spangled Banner" began to play, Smith and Carlos lowered their heads and raised black-gloved fists to the sky - the right for Smith, the left for Carlos, in accordance with the habitual salute of the black activists, the Black Panthers.
The stadium was stunned, the somewhat closed Olympic movement scandalised by their act.
Smith and Carlos, both students at San Jose State University and members of the Olympic Project for Human Rights - a group of athletes wishing to protest against the treatment of the black community in the United States - explained to the press that they wanted to show the world how the "liberty" expressed in the national anthem chiefly concerned white Americans.
The backlash
The IOC was quick to impose sanctions, the American Olympic Committee suspending Smith and Carlos and ordering them to leave the Olympic village immediately.
Those sanctions overshadowed the feat that had been realised by Smith only a few hours earlier.
Smith ran the 200m final in 19.83 sec to establish the 9th world record of his career, coming from nowhere on the final straight to overtake the pre-race favourite Carlos.
Although the global reaction to their post-race stance was largely favourable, the American press had a field day berating both sprinters, and their subsequent careers lay in tatters.
Smith, who went on to play American football for the Cincinatti Bengals, encountered some difficult years including a divorce before finding a coaching post in Ohio in 1972.
Six years later, he finally shed the skin of his Olympic scandal and found solice with a post at the prestigious Santa Monica College taking charge of athletics.
Copyright 2008 Agence France-Presse.