Mark Spitz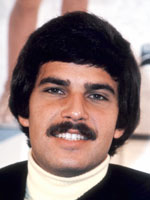 Mark Spitz
Date of birth

1950-02-10
Birthplace

Modesto
Height

186 cm
Weight

77.0 kg
Disciplines

freestyle and butterfly
World Records

33 (100m and 200m freestyle, 100m and 200m butterfly, 4x100m freestyle relay, 4x200m freestyle relay, 4x100m medley relay)
Olympic Games (11 medals - 9 gold, 1 silver, 1 bronze)
100m freestyle: 1st (1972), 3rd (1968)
200m freestyle: 1st (1972)
100m butterfly: 1st (1972), 2nd (1968)
200m butterfly: 1st (1972), 8th (1968)
4x100m freestyle relay: 1st (1968, 1972)
4x200m freestyle relay: 1st (1968, 1972)
4x100m medley relay: 1st (1972)
Pan American Games (2 medals - 2 gold)
100m butterfly: 1st (1967)
200m butterfly: 1st (1967)
The golden tidal wave crashes in on Munich
Mark Spitz gave swimming an unparalleled and unforgettable memory in Munich. A total of seven gold medals, and as many world records, were won by the determined Californian during the Games of 1972, adding to what he described as his "disappointing" haul of medals in 1968.
Born in 1950 in Modesto (California), Spitz's formative years were spent in Honolulu where his parents moved when he was 2 years old.
Four years spent on the beaches and in the seas of the Pacific were enough to give his engineer father an indication of his son's talents.
Mr Spitz, whose motto was "swimming isn't everything, winning is", may have inadvertently played a role in his son's success.
Returning to the mainland, first to Sacramento then Walnut Creek in 1961, the Spitz family, including his two sisters Nancy and Heidi, organised their lives around their younger brother. At the age of 10, Spitz was already training four hours per day.
Don Schollander's success in the Tokyo Olympics (1964) proved the catalyst for the young hopeful. So much so that his only dream at the age of 14 was to equal his compatriot's record of four gold medals.
Spitz thus increased his distance, swimming 9km every day and employing various styles including the crawl, butterfly and backstroke.
Four medals not enough in Mexico
A year before the Mexico Olympiad, he beat the world 400m record and promptly declared that he would win six gold medals at the Games.
Two, however, were to be his lot, as well as one silver and a bronze and he returned home, disappointed, and facing a hostile press.
Munich, however, witnessed the return of Spitz in top form.
Announcing that he would swim in seven events, many people believed the American would suffer for his "folly". But Spitz was confident, and had every right to be so.
Despite last-minute hesitation on competing in the 100m freestyle for fear of not realising his dream, an unprecedented seven targeted golds were won in Germany making the Spitz name that of legend.
One sad note to his exploits in Munich was his precipitated departure from the Olympic village after the hostage taking incident and ultimate deaths of 11 people in a terror attack carried out by the "Black September" commando outfit.
Following the Games, like a bolt from the blue, Spitz announced his retirement.
Married to a wealthy heiress and father of a child, he caused a sensation at the age of 41 when he returned to the water to prepare for the Barcelona Games!
Eventually, however, he renounced his Olympic aspirations and the myth of Mark Spitz would remain unblemished.
Copyright 2008 Agence France-Presse.