Teofilo Stevenson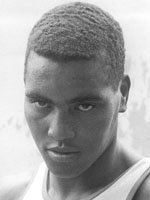 Teofilo Stevenson
Date of birth

1952-03-29
Birthplace

Delicias-Puerto Madre
Height

190 cm
Weight

93.0 kg
Categories

heavyweight (+81kg), superheavyweight (+91kg)
Olympic Games (3 medals - 3 gold)
Heavyweight: 1st (1972, 1976, 1980)
Amateur World Championships (3 medals - 3 gold)
Heavyweight: 1st (1974, 1978)
Superheavyweight : 1st (1986)
Pan American Games (3 medals - 2 gold, 1 bronze)
Heavyweight: 1st (1975, 1979), 3rd (1971)
History maker stays Fidel to Castro
Legendary Cuban boxer Teofilo Stevenson made history during his spectacular yet controversial career by becoming the first man to win the gold medal in the same division three times.
Another telling statistic is the fact he was only beaten 19 times during a career that featured 321 bouts.
Yet none of those fights included professional world title shots. Fidelity to Fidel Castro's Communist regime, which frowned upon and, in most cases forbade, professional sports was his principle reason for refusing to turn professional.
The son of an immigrant from Saint-Vincent in Jamaica, Stevenson picked up the gloves for the first time at the age of 13 and, the following October, in 1966, won his first fight.
He continued to train and box regularly, preparing himself for his first Olympic Games in Munich in 1972.
Refusal
His success and obvious potential as a money-maker attracted the attention of big-time promoters, but his response was like one of his crushing right hooks:
"Professional boxing treats boxers like merchandise which it buys and sells and abandons when they are past their sell-by date. I will not fight for money. But if Fidel Castro asks me to fight someone in particular, without changing my amateur status, then I will accept his invitation," he proclaimed.
Promoter Bob Arum offered him 2 million dollars to fight Mohammed Ali in what was to be billed "The fight of the century", but the International Boxing Federation blocked the fight due to amateur and IOC conditions.
Message understood. But it was in the ring that the towering Cuban made the most devastating statements.
Such was his notoriety among the international amateur boxing fraternity that it was no great surprise when, at the age of 28, he defended his Olympic title at the 1980 Games in Moscow - making history by becoming the first boxer to defend the same title three consecutive times.
Minister
In 1976, the year of his second Olympic triumph in Montreal, Stevenson combined the rigours of the ring with those of public administration when he was elected a minister for the Las Tunas region in Cuba, putting his thinking at the service of his country.
Before taking retirement from sport in 1988 aged 38, the Cuban boxing legend won the amateur world championships for the third time...in the United States.
Copyright 2008 Agence France-Presse.