Shirley Strickland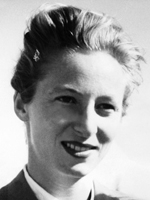 Shirley Strickland
Date of birth

1925-07-18
Birthplace

Northam
Discipline

80m hurdles, 100m
World Records

9 (80m hurdles, 100m, 4x100m relay)
Olympic Games (7 medals - 3 gold, 1 silver, 3 bronze)
100m: 3rd (1948, 1952)
4x100m relay: 1st (1956), 2nd (1948)
80m hurdles: 1st (1952, 1956), 3rd (1948)
Teaching the field a hurdles lesson
Having equalled the legendary Fanny Blankers Koen's world record (11.0 sec) in the first heat of the 80m hurdles event in the 1952 Olympic Games, Shirley Strickland (De La Hunty) became the first woman to officially break the 11-second barrier in the event the following day.
Racing to gold in Australian colours, she almost provoked a diplomatic row when it was undecided which of the British and Australian national anthems should be played.
Politics aside, the rightful heir to the crown that had been held by such illustrious athletes as Blankers Koen and Mildred "Babe" Didrikson fully deserved her triumph.
Four years earlier in London the 23-year-old from Western Australia had signalled her serious contention for the Olympic sprint title when she came third behind a triumphant Koen in both the 100m sprint and the 80m hurdles.
In the English capital she also ran the opening leg for the 4x100m sprint relay team that went on to win Australia's first medal in the event.
First woman to defend Olympic title
In Helsinki, it was a different story. Blankers Koen pulled out of the race mid-way due to a carbuncle on her leg, easing the passage for the 27-year-old teacher to collect her first Olympic gold medal.
In the 100m event Australia dominated, with Strickland placing third behind her triumphant compatriot Marjorie Jackson.
Strickland continued her career throughout the 1950's, although by the time the Melbourne Games took place in 1956, she had become a mother and was also working as an assistant physics and maths teacher at Perth Technical College.
This, however, only helped her campaign. At the age of 31 Strickland calculated her speed correctly to produce her most successful Olympiad, her third, winning Australia's first relay gold in the 4x100m and setting a new world record (44.5 sec), while successfully defending her 80m hurdles title with a two-yard margin.
Her win in the 80m hurdles was the first time a female athlete had won back-to-back Olympic titles after 1952.
Strickland returned home to a warm welcome and continued in her teaching profession.
She died in February 2004 at the age of 78 at her home in Perth.
Copyright 2008 Agence France-Presse.