Irena Szewinska-Kirszenstein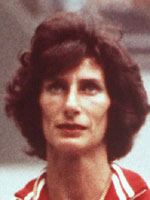 Irena Szewinska-Kirszenstein
Date of birth

1946-05-24
Birthplace

Leningrad (USSR)
Height

176 cm
Weight

70.0 kg
Discipline

100m, 200m, 400m, long jump
World records

10 (100m, 200m, 400m)
Olympic Games (7 medals - 3 gold, 2 silver, 2 bronze)
100m: 3rd (1968)
200m: 1st (1968), 2nd (1964), 3rd (1972)
400m: 1st (1976)
4x100m relay: 1st (1964)
Long jump: 2nd (1964)
European Championships (9 medals - 5 gold, 1 silver, 3 bronze)
100m: 1st (1974), 2nd (1966)
200m: 1st (1966, 1974), 3rd (1971)
400m: 3rd (1978)
4x100m relay: 1st (1966), 3rd (1974)
Long jump: 1st (1966)
A shining light from the East
A glance into the record books will indicate Irena Szewinska-Kirszenstein as the most successful female athlete Poland has ever produced.
Numerous Olympic medals in five different events over four Olympiads in 12 years substantiate the widely-held belief that Kirszenstein, as she was known prior to her marriage in 1967, is a track legend.
Life, however, did not begin so positively. Indeed, to read her story reinforces the belief that the human body and mind can overcome any adversity.
Born in 1946 to Jewish parents in a refugee camp in Leningrad, by the time she was 14 years old she was already showing signs of the promise which would later help her regularly climb the highest podium places.
Endowed with a superb physique (1.76m/70kg) - a perfect compliment to the rigours of the track - Szewinska's methodical training sessions soon began to bear fruit.
All major honours
Her first Olympic exploit came in Tokyo in 1964 as an unassuming 18-year-old, winning silver medals in the 200m and long jump and a bonus when she ran the second leg in the Polish team's shock victory in the 4x100m relay.
Four years later in Mexico City, competing as the 100m world record breaker under the name of Szewinska, she finished third behind Americans, Barbara Ferrell and new world record-holder Wyomia Tyus (11.08 sec).
The 200m was a different story, however. Benefiting from the legally-allowed 2.0 mps wind on the day of the race, and despite a slow start, Szewinska improved her Tokyo result by winning gold and setting a new world record of 22.58 sec.
Munich (1972) proved a less fruitful Olympiad, with a mere bronze in the 200m. A year after Munich, she switched events, running the 400m and displaying her versatility by becoming the first woman to run one lap of the track in under 50 seconds in only the second 400m race of her career.
As world record-holder, going in to the 400m final in Montreal (1976) was a formality. Indeed, Szewinska improved her previous time of 49.75 sec by almost five hundredths of a second (49.28).
She was also the first woman to hold world records in the 100/200/400m events at the same time, and continued her winning ways away from the stadiums.
Able to speak three languages, she gained a Masters degree in economics, became a mother, and also became involved in the inner workings of the IAAF and IOC.
Forever passionate about sport, and still a keen runner, Szewinska was given the task of co-ordinating the 2004 Athens Games and came out smelling like a rose at the highly successful competition in Greece.
Copyright 2008 Agence France-Presse.