Ryoko Tamura-Tani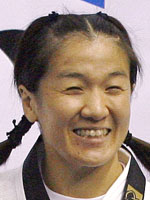 Ryoko Tamura-Tani
Date of birth

1975-09-06
Birthplace

Fukuoka
Height

146 cm
Weight

48.0 kg
Sport

Judo
Category

Superlightweight (-48 kg)
Olympic Games (4 medals - 2 gold, 2 silver)
- 48 kg : 1st (2000, 2004), 2nd (1992, 1996)
World Championships (8 medals - 7 gold, 1 bronze)
- 48 kg : 1st (1993, 1995, 1997, 1999, 2001, 2003, 2007), 3rd (1991)
From maternal instincts to mat instincts
Ryoka Tamura-Tani is an undisputed judo legend. After two years out of the game she marked her much publicised return by winning a seventh world crown in the 48kg category in 2007 and with Beijing now approaching she has her sights set on a third Olympic title.
In Brazil, Tani displayed once again that she is the master of this weight category after taking two years off to have a baby son, Yoshiaki who was born December 31, 2005.
Seven world titles in eight appearances, the Japanese megastar and two-time defending Olympic champion remains at the height of her art, men and women combined as she takes her career to even higher levels.
However her success in Rio almost never materialised after a shock defeat in the Japanese championships.
Recognised as a national icon, the Japanese federation still selected her for the worlds, at first sparking a national debate but then reaching a happy ending after she beat defending champion Yanet Bermoy of Cuba in the final.
In 2008 she again failed to win the national championships, but the federation stood by her again to select her for the Games.
Nicknamed "Yawara" after a famous cartoon warrior heroine back home, Tamura burst on to the international scene in her mid-teens and went on to win silver at the Barcelona Olympics in 1992.
By the time she had celebrated her 17th birthday Tamura had collected three prestigious Fukuoka Cups. The following year, she became the world champion and was soon the darling of Japanese television shows.
Third time lucky
Following Barcelona, Tamura won Japan's first women's world title of any description in a decade in Hamilton, Canada (1993). During that long drought, the Japanese girls had slipped behind not only bitter rivals South Korea but also China in the world rankings.
Again, Tamura overcame her Olympic defeat in Atlanta by winning her seventh straight title at the Fukuoka women's tournament.
Although having injured a pinkie at the 1999 Fukuoka world championships in December during a struggle to throw arch rival Amarilis Savon, Tamura went on to win the bout, her 10th straight title.
After her Olympic gold in Sydney she kept up momentum with a fifth straight world title in Germany 2001 and added world crown number six in Osaka, Japan in 2003.
She was then in the news for very different reasons, as her marriage to Japanese baseball star Toshitomo Tani in Paris provided the people pages of the press with a field day, popular interest was such that the wedding was actually televised.
Following her nuptials, she successfully defended her Olympic crown at Athens in 2004 and will go to Beijing as one of the hot favourites in a bid to bring down the curtain on her illustrious career.
Copyright 2008 Agence France-Presse.