Johnny Weissmuller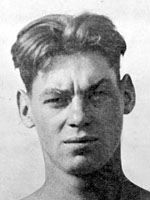 Johnny Weissmuller
Date of birth

1904-06-02
Birthplace

Freidorf (Hungary)
Height

190 cm
Weight

86.0 kg
Discipline

freestyle, relays, water polo
World records

67 (from 50 to 880 yards and 50 to 800m)
Olympic Games (6 medals - 5 gold, 1 bronze)
100m freestyle: 1st (1924, 1928)
400m freestyle: 1st (1924)
4x200m relay: 1st (1924, 1928)
Water polo: 3rd (1924)
King of the jungle and the pool
Born in Romania (then German Swabia) Petro Janos "Johnny" Weissmuller emigrated with his family at the age of four to the United States only for tragedy to stike when his father died of tuberculosis soon after.
From the age of 9 he was a regular swimmer at Fullerton Beach at Lake Michigan. At 16 he was swimming at the Chicago Athletic Club and beginning to show real promise. It was there that he was spotted by his eventual coach, Willian "Big Bill" Bachrach.
The result of subsequent 100m training sessions was the historic time of 58.6 sec on July 9, 1922 - the first ever sub-minute 100m. Weissmuller was barely 18 years old.
At the 1924 Olympic Games his solid technique and his excellent diving ability made him virtually unbeatable and he won the 100m freestyle, the 400m freestyle and 4x200m relay gold medals in devastating fashion.
He went on to win 52 national swimming championships and in 1950 was selected by Associated Press as the greatest swimmer of the half century.
Hollywood beckons
After an equally successful time at the 1928 Games in Amsterdam, Weissmuller's physique and photogenic face came to the attention of Hollywood and won him the starring role in the Tarzan films between 1932-48.
No need for stunt men - Weissmuller insisted on doing his own swinging and diving.
But near-oblivion soon followed after a string of disastrous marriages, divorces, and alimony suits - wiping out most of his fortune.
A failed business venture led Weissmuller to alcohol and before long he was destitute.
The legendary Hollywood crooner and actor Frank Sinatra gave Johnny temporary respite, finding him a job in Caesar's Palace.
Weissmuller died in 1984, having spent the latter part of his life in a psychiatric clinic in Acapulco.
Copyright 2008 Agence France-Presse.