Yasuhiro Yamashita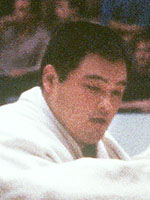 Yasuhiro Yamashita
Date of birth

1957-06-01
Birthplace

Kumamoto
Height

180 cm
Weight

133.0 kg
Categories

heavyweight, open category
Olympic Games (1 medal - 1 gold)
Open category: 1st (1984)
World Championships (4 medals - 4 gold)
Heavyweight: 1st (1979, 1981, 1983)
Open category: 1st (1981)
Japanese perfection in a global competition
In the long list of Japanese judo champions, Yasuhiro Yamashita emerges as the indisputable leader.
While the rest of his compatriot judokas were often caught out by competitors from around the world - as aptly demonstrated by the physically-imposing Dutchman Anton Geesink - Yamashita, the supple giant who could run the 100m in 13 seconds, rose from the ashes to hand some pride back to his country.
In the heavyweight and open category divisions, the man whose popularity equalled that of the country's hero-worshipped Sumo wrestlers singularly dominated his sport.
From 1979 - 1985 he collected no less than three world titles in the heavyweight division and one in the open category division.
With an injured ankle he also transcended the pain threshold, compromising his style to take the Olympic open category title in Los Angeles in 1984.
At the age of 12, he measured 1.72m/78kg and he adorned his first competitive kimono a year later.
He remembers watching his compatriots on television as a youngster and admits that, "ever since watching the Tokyo Games, I dreamed of becoming Olympic champion".
But for injury and Japan's boycotting the Moscow Games in 1980 that gold medal may have come earlier.
Imperturbable and confident in his own ability, 9-year-old Yamashita was, however, almost forced onto the judo mat by a mother concerned about her son's possible weight gain.
Unbeaten during 203 bouts
He went on to win a total of 528 bouts, losing only 16 times and drawing 15 for a total 559 bouts.
During his career he was never beaten by a non-Japanese competitor - a source of immense pride for followers of Japan's national sport.
A record nine times national champion, from 1977 he began an unbeaten run of 203 consecutive wins, lasting up until his retirement from the mat which followed his Olympic title at the age of 27.
A family man, Yamashita took over as the Japanese national coach in 1992 - an appointment which saw him scour the world with open eyes, always ready to accept and incorporate physical and mental developments into a sport which, at the same time, he kept within the realms of tradition.
Copyright 2008 Agence France-Presse.