Emil Zatopek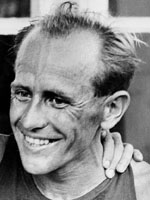 Emil Zatopek
Date of birth

1922-09-19
Birthplace

Koprivnice (Czech Republic)
Height

171 cm
Weight

64.0 kg
Discipline

long distance
World records

18 (5000m, 6 miles, 10,000m, 10 miles, 20km, 1-hour run, 20.052km, 15 miles, 25km, 30km)
Olympic Games (4 medals - 3 gold, 1 silver)
5000m: 1st (1952), 2nd (1948)
10,000m: 1st (1948, 1952)
Marathon: 1st (1952 - new OR), 6th (1956)
European Championships (4 medals - 3 gold, 1 bronze)
5000m: 1st (1950), 3rd (1954)
10,000m: 1st (1950, 1954)
Make way for the Czech express
Emil Zatopek, whose contorted style prompted one observer to suggest he ran with a scorpion in each shoe, was one of former Czechoslovakia's greatest athletes.
Zatopek smashed no fewer than 18 world records, from the 5000m to the 30km, and broke many previously-set distance records.
The "Czech Express", as he was affectionately nicknamed, won three gold medals at the 1952 Helsinki Games to add to the gold and silver he'd picked up in London four years earlier.
A grimace, not a grin, was his trademark demeanour on the track, but a similar facial expression was to be found on his rivals as his awesome ability pounded them into submission.
Later, he would humorously admit, "I was not talented enough to run and smile at the same time."
Political militant
Zatopek was born in Koprivnice, Northern Moravia on September 19, 1922. He worked in a shoe factory by day and studied chemistry in his spare time.
He joined the army to complete his military service in 1945 and two years later was promoted to lieutenant.
That same year he met Dana Ingrova, his commanding officer's daughter, whom he later married.
Zatopek's unconventional training method was frowned upon by many Czech coaches.
He would run 200m as fast as possible, and then run the same distance slowly 20 times. He would then repeat the process over 400m.
His phenomenal successes on the track in the 1950s made him a well-known figure in Czechoslovakia and his high profile opposition to the Soviet invasion of the country in 1968 inevitably got him into trouble.
A signatory to Alexander Dubcek's Manifesto backing independence from the Soviet Union, Zatopek was later expelled from the Communist party and removed from his post at the ministry of defence.
He spent the next six years working in a uranium mine in the city of Jachymov before being rehabilitated by the regime in 1975, when he was offered a job in the Sports Information Centre in Prague.
Eventually he was allowed to travel abroad, meeting fellow Olympians and long-time fans.
Later in life, he suffered from numerous health problems, notably an operation on his femur that led to pneumonia and heart problems.
He consequently died at the age of 78 years old in November, 2000 in Prague.
Copyright 2008 Agence France-Presse.