Jan Zelezny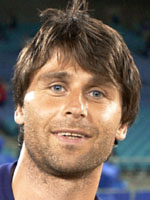 Jan Zelezny
Date of birth

1966-06-16
Birthplace

Mlada Boleslav (Czechoslovakia)
Height

185 cm
Weight

86.0 kg
Discipline

javelin throw
World records

4
Olympic Games (4 medals - 3 gold, 1 silver)
1st (1992, 1996, 2000), 2nd (1988)
World Championships (5 medals - 3 gold, 2 bronze)
1st (1993, 1995, 2001), 3rd (1987, 1999)
European Championships (2 medals - 2 bronze)
A legend in the making
The great javelin thrower Jan Zelezny picked up his third Olympic title in Sydney, and can also count a trio of world titles and the world record to his impressive list of honours during a fabulous career.
The robust Czech (1.85m/86kg) with the timid smile registered his first major victory in 1992, at the Olympic Games in Barcelona, and had Athens 2004 in sight and a potential fourth title.
However, despite throwing the third best mark of the year going into the Games, he finished modestly in 9th, well behind surprise winner Andreas Thorkildsen of Norway.
He became a member or the athletes commission of the IOC following Sydney but resigned in his efforts to be ready for the javelin event in Greece.
Now, with his career over, he has the opportunity to return to a position within the IOC and has also applied for the post of president of the Czech Olympic Committee.
His first Olympic win in 1992 Games was sweet revenge on the IAAF which had, a few weeks previously, refused to sanction his new world record because the javelin used was non-regulation.
His triumph in Catalonia was perhaps one of the most important in a long line of victories registered between 1991 and 2000: 98 in 125 competitions for the man who, on the field, had become practically untouchable.
Winning return
After collecting a series of medals and titles, Zelezny reached the pinnacle of success on May 25, 1996 in Germany when he took the world record to an astounding 98.48m, a distance which incessantly provides amazement for his adversaries.
The euphoria from that record continued until the 1996 Olympic Games in Atlanta, where Zelezny collected his second consecutive gold. The following season (1997) proved mediocre, however, and he could only manage 9th place in the world championships in Athens.
Tired from the rigours of competition, Zelezny had trouble finding his Olympic form, and a right shoulder injury sustained during training in April 1998 only complicated matters.
But he used that adversity positively, avoiding the stadium for a season and spending time with his family, wife Marta and their two children, Katarina and Jan.
In 1999, shortly after his return to competition, he took bronze in the world championships in Seville and, in March 2000, once more threw beyond the 90-metre mark.
At Sydney, his hard work paid off again, as he out-distanced Britain's Steve Backley and Russian Sergei Makorov to win his third straight Olympic gold.
He won a bronze medal as late as 2006 at the European Championships though the 2001 world championship title was his last major achievement.
His motto of "work and sacrifice" served him well during what will go down as one of the finest sporting careers in track and field.
Copyright 2008 Agence France-Presse.