Donovan Bailey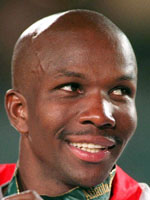 Donovan Bailey
Date of birth

1967-12-16
Birthplace

Manchester (Jamaica)
Height

182 cm
Weight

83.0 kg
Discipline

100m, 4x100m relay
World record

1 (100m)
Olympic Games (2 medals - 2 gold)
100m: 1st (1996)
4x100m relay: 1st (1996)
World Championships (4 medals - 3 gold, 1 silver)
100m: 1st (1995), 2nd (1997)
4x100m relay: 1st (1995, 1997)
A man for the big occasion
After turning his muscled back on a stockbroking career Donovan Bailey reaped rich dividends from athletics, the Canadian's stock hitting a high in the 1996 Games when he upset race favourite Frank Fredericks to set a new Olympic and world 100m record of 9.84 sec.
To add further misery to the American hosts, Bailey anchored the Canadian team to victory in the 4x100m relay.
Born in the Jamaican town of Manchester on December 16, 1967 Bailey was brought up with his four brothers in Ontario, Canada after moving there in 1981.
Graduating from the local high school he went on to earn a degree in business administration, specialising in marketing, from Sheridan College.
Eschewing the suit and collar life of high finance for the spikes and shorts of the track, Bailey's gamble paid off - although he was initially a late developer, not breaking the 11-second barrier for the 100m until the age of 23.
With coach Dan Pfaff guiding his every move Bailey has that uncanny knack of raising his game for the big occasion.
"I love the championship atmosphere as it really gets my blood going," he readily admitted.
Still on the right track
Despite reported feuds with track rivals Michael Johnson and 2000 Olympic champion Maurice Greene, Bailey claimed he got along just fine with his fellow competitors.
His place in athletics history is assured, though his two finest hours were overshadowed by events elsewhere on the track.
His world championship win in 1995 shared the headlines with Linford Christie's dramatic collapse on the finishing line, and the retired British champion once again stole Bailey's thunder when getting disqualified for false-starting at the Atlanta Games one year later.
Following a ruptured Achilles tendon in 1998 and what he himself described as a mediocre 1999 season, Bailey was far from his best as he attempted to defend his Olympic crown in Sydney 2000.
Battling flu, he was eliminated in the second round.
He retired at the end of the 2001 season to embark on a charity career working with orphans and cancer victims as well as promoting up and coming Canadian Athletes.
Copyright 2008 Agence France-Presse.