Jonathan Edwards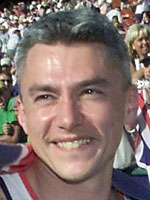 Jonathan Edwards
Date of birth

1966-05-10
Birthplace

London (England)
Height

183 cm
Weight

73.0 kg
Discipline

triple jump
World Record

3
Olympic Games (2 medals - 1 gold, 1 silver)
World Championships (5 medals - 2 gold, 1 silver, 2 bronze)
1st (1995, 2001), 2nd (1997), 3rd (1993, 1999),
European Championships (2 medals - 1 gold, 1 bronze)
World Indoor Championships (1 medal - 1 silver)
European Indoor Championships (1 medal - 1 gold)
Calling on divine intervention
Great Britain's Jonathan Edwards leapt to triple jump prominence when he set a mythical world record in 1995, the year he won the first of two world and one Olympic titles.
That year, the Durham University physics graduate recorded a +18m jump in the European Cup. Although the wind was just over the legal limit, he provided a further, and decisive, indication of his capabilities.
At a subsequent meeting in Salamanca, Spain, Edwards jumped a record-breaking 17.98m, followed by an unprecedented two world records on his first two jumps in the world championship final in Gothenburg, Sweden with 18.16m and 18.29m - the first ever 18m and 60 feet jumps with a legal wind.
Overall, his career has been a mixed affair, but Edwards will be remembered as one of the all time greats of the sandpit.
Olympic gold at last
Given encouragement to take up sport by his father, who was a keen sportsman himself, Edwards first began his discipline at school. A committed Christian who, until 1993, refused to compete on Sundays, he was not afraid to call upon his God to give him strength in times of need.
The 1992 Games in Barcelona, where he failed to figure in the final stages of the competition, was one of those occasions: "It was probably the worst period of my life athletically. All my hopes and dreams were blown out of the water," he admitted.
Pre-Barcelona, Edwards had competed successfully in the Commonwealth Games (2nd - 1990, 1994) and in 1992 he won gold in the World Cup. His catastrophe in Catalonia was followed by a return to form with a world championship bronze in 1993.
A silver medal in the 1996 Olympic Games in Atlanta was added to his collection, and went part way to alleviating his previous Olympic disappointments of 1988 and 1992.
Finally at the Sydney Games in 2000, everything came together on the Olympic stage and he struck gold.
In 2001, he followed up on his Olympic exploit with a second world title in Edmonton although in 2002, he could only manage third at the European championships, just two years before the Athens Games in 2004.
"In my mind there's no question I'm the best triple jumper ever," he said at the launch of his book "A Time to Jump".
"It sticks in my throat a little to let that out - but it's a fact."
Copyright 2008 Agence France-Presse.