Laura Flessel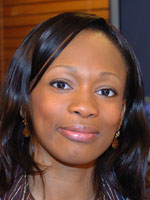 Laura Flessel
Date of birth

1971-11-06
Birthplace

Pointe-a-Pitre
Height

170 cm
Weight

60.0 kg
Sport

Fencing
Speciality

Epee
Olympic Games (5 medals - 2 gold, 1 silver, 2 bronze)
Individual epee: 1st (1996), 2nd (2004), 3rd (2000)
Team epee: 1st (1996), 3rd (2004)
World Championships (13 medals - 6 gold, 3 silver, 4 bronze)
Individual epee: 1st (1998, 1999), 2nd (2001), 3rd (1995, 2005, 2006)
Team epee: 1st (1998, 2005, 2007, 2008) 2nd (1995, 2006), 3rd (1997)
European Championships (2 medals- 1 gold, 1 bronze)
Individiual epee : 1st (2007)
Team epee : 3rd (2007)
World Cup
Individual epee: 1st (2002, 2003, 2007), 2nd (1997)
'A sting in the tale'
The ferocious and lightening-swift epee legend Laura Flessel will make one last stab at a second Olympic title at Beijing where French fans will revel every time she rips off her mask to give her fiery victory cry.
Known as the 'wasp' due to her fiery temperament Flessel's signature is the thrust at an opponents ankles, a surprise tactic that has won her countless duels.
The 36-year-old was the gold medallist at the women's inaugural epee tournament at Atlanta 1996 and has a bronze from Sydney and a silver from Athens in what she termed the 'complete set'.
At Atlanta in the individual event she beat compatriot Valerie Barlois in the final, the same fencer who helped her win the team gold along with Sophie Moressee-Pichot.
Her aggressive nature and good looks made her an instant darling of the media and her only two world titles to date came before the Sydney Games, in 1998 and 1999.
She was one of the hot favoutites Down Under but a semi-final defeat saw her go home with just the individual bronze.
Appetite to win
Married following Atlanta to Denis Colovic, in 2001 she gave birth to a daughter Leilou, but was back in shape at the world championships that year where she reached the final.
Then came the shock of a positive doping test in May, 2002 for which she was handed a three month ban.
Traces of coramine-glucose were found in her system following a World Cup event, although a French team doctor, who has since resigned, admitted administering the drug to all French team members including Flessel.
She has since bounced back resisting the temptation of retirement to compete at the 2004 Games in Athens and the move paid off as she left the Greek capital with two more medals.
"I am both proud and sad because I came for gold but at least now I have the complete collection of medals to show to my daughter," she said following her defeat against Hungarian Timea Nagy in the epee final and a bronze in the team event.
Born in 1971 in Guadeloupe, Flessel showed she still has the appetite to win as recently as the 2007 European championships where an individual gold and team bronze are good omens for her chances of bowing out at Beijing with some kind of farewell medal.
Copyright 2008 Agence France-Presse.