Sheryl Swoopes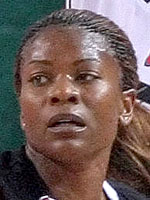 Sheryl Swoopes
Date of birth

1971-03-25
Birthplace

Brownfield
Height

183 cm
Weight

66.0 kg
Position

Guard
Clubs

VBM-SGAU Samara (2004-05), Taranto Cras Basket (2005-06), Houston Comets (since 1997)
Olympic Games (3 medals - 3 gold)
World Championships (2 medals - 1 gold, 1 bronze)
WNBA Championship
4 titles (1997, 1998, 1999, 2000)
NCAA Championship
Other Honours
WNBA Most Valuable Player (2000, 2002, 2005)
WNBA Defensive player of the year (2000, 2002, 2003)
Sheryl Swoopes for more Olympic gold
Sheryl Swoopes will attempt to join an elite club of athletes who have won four consecutive Olympic titles as the veteran basketball star leads the talented USA team into the women's basketball tournament in Beijing.
The veteran forward will be 37 when the teams hit the court in the Chinese capital and likely appearing at her last Olympiad but the woman referred to as the "female Michael Jordan" has had a spectacular career both at club and international level as she enters the twilight of her playing days.
She is just one of seven players to win NCAA, WNBA and Olympic titles and the American women will again be one of the hot favourites as they carry an impressive record of having lost only twice in seven Olympic tournaments.
Born in Brownfield, Texas she was brought up by her mother before finding her niche in basketball at Texas Tech University.
During her two seasons in the NCAA, the Lady Raiders compiled a record of 58 wins and eight defeats culminating with a two-point win over Ohio State in the 1993 championship match in which MVP Swoopes poured in a record 47 points.
Texas Tech retired her number 22 jersey while Swoopes was called up to the US national team.
Champion mother
Following a brief spell in Italy where she appeared 10 times for Basket Bari, she began a successful stage of her career with the WNBA Houston Comets winning four titles.
In fact, she made her debut for the Comets just six weeks after giving birth to her son Jordan which was the result of a four-year marriage with her childhood sweetheart Eric Jackson, a marriage that ended with divorce in 1999.
At the international level, she appeared at the Olympics for the first time in 1996 where the American girls helped by Swoopes swept through the tournament with an eight game unbeaten run and victory over Australia in final.
She is described as a great offensive and defensive player and was the leading vote getter for the WNBA All-Star team during five seasons not to mention being named to the team of the decade.
In 2000 she originally declined the invitation to compete at the Sydney Games due to her parental obligations but changed her mind and was on the champion's team as the US again put the Aussies to the sword in the final.
A knee injury ruled her out of the 2001 season but she was back for the American team one year later helping her country to the world championship gold in China.
A third straight Olympic title followed at Athens but she has been hit by injuries in recent times and missed most of the 2006 campaign.
In October 2005, she publicly admitted she was a lesbian and now raises her son with partner Alisa Scott, a former Comets player and assistant coach.
Copyright 2008 Agence France-Presse.