Vasily Alekseyev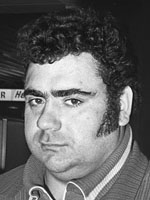 Vasily Alekseyev
Date of birth

1942-01-07
Birthplace

Pokrovochihkino (Russia)
Height

186 cm
Weight

160.0 kg
Category

+110 kg
World Records

80 world records between 1970 and 1978
Olympic Games (2 medals - 2 gold)
World Championships (6 medals - 8 gold)
1st (1970, 1971, 1973, 1974, 1975, 1977)
European Championships (8 medals - 8 gold)
1st (1970, 1971, 1972, 1973, 1974, 1975, 1977, 1978)
The world's strongest man
Vasili Alekseyev today remains the most successful weightlifter of all time. The record books will show that the colossal Russian (160kg/1.86m) not only won two Olympic titles (1972 and 1976), but was the first lifter to achieve the mythical combined weight of 600kg in three movements - snatch, clean and jerk and the clean and press.
This achievement, which cannot be repeated since the clean and press is no longer included in the program, came on March 18, 1970.
Seven years later, on the 60th anniversary of the October Revolution, (October 31, 1977), he set his 80th and last world record by lifting 256kg in the clean and jerk, consequently etching his name into the record books for all time.
Born on January 7, 1942 in the Riazan region, his father was a woodsman and at 12 years old Vasily was felling trees and carrying logs himself before joining the forestry commission and becoming a mining engineer and army commander.
His first sporting endeavours were as a successful volleyball player. At the age of 19 (1.81m/90kg), however, he swapped the court for the gym and proceeded to furnish his home with 18 world European and Olympic titles in an undefeated run between 1970 and 1978.
His trademark large belly, as cumbersome as it seemed, did not prevent him from going on to shock the world of weightlifting with his supreme and unequalled strength, something which always allowed him to go for the big and impressive lifts.
Domination in Munich
He used this to bring his combined weight record in the three events to a total of 640kg during the Munich Games in 1972, where his nearest adversary, Germany's Rudolf Mang, was able to lift only 610kg.
In the Montreal Games four years later, where he was the only lifter to retain his title, Alekseyev was even more impressive.
In two brief movements he put the hopes of his adversaries beyond reach, his face reddening through his efforts, by lifting world records in the snatch (185kg) and the jerk (255kg) for a total of 440 kg.
After filling the headlines with his success, then finding disappointment for the first time in 1978, Alekseyev returned to the fray in Moscow (1980). However, past his best, he was unable to even lift the bar higher than his knees...
He was a successful coach at national level between 1990 and 1992, but when several of his pupils failed doping tests, it spelled the end of his tenure.
Copyright 2008 Agence France-Presse.