Valery Brumel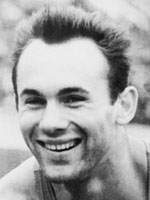 Valery Brumel
Date of birth

1942-04-14
Birthplace

Tolbuzino
Height

185 cm
Weight

79.0 kg
Discipline

high jump
World Records

6
Olympic Games (2 medals - 1 gold, 1 silver)
European Championships (1 medal - 1 gold)
A soaring career cut short by tragedy
The tale of Valeri Brumel is one of largely unfulfilled promise. However, the world would briefly come to know and admire the flying success of the Siberian-born son of geologists.
In short, Brumel gave the long-dominant Americans a taste of his ability in the high jump event.
The United States had won twelve of the previous available fifteen Olympic titles but in 1962 Brumel's jump of 2.27m (new world record) sent shockwaves through the western camp.
From an early age Brumel seemed destined to excel.
A leap of 1.30m while only 11 years old provided an indication of what was to follow. Word travelled quickly in the Soviet Union when it came to a new sporting prodigy - and Brumel was no exception. Given coaching, he was taken to the USSR championships at the age of 16.
That year he jumped 1.96m, the next year, over 2m, and the system propelled him forward.
Celebrated coach Vladimir Diatchkov took Brumel under his wing and discovered he also had a promising decathlete on his hands.
Weight training, stretching and consistent practice resulted in rapid progress and, between 1961 and 1963, he set six new world records, ending with his 2.28m high-jump in Moscow in July.
Tragic outcome
Fate dealt Brumel a cruel blow in October 1965 when he was involved in a motorbike accident in Moscow which led to the near-amputation of his right leg. Surgeons managed to prevent this, but the six operations endured, took its toll on the 23-year-old.
The once-promising Olympic champion did make a comeback, however his best jump of 2.06m was far behind his previous standard.
Accepting his ill-fate, and with the help of his wife, a psychologist who had given him a son, Brumel settled down to write his autobiography.
Since then he wrote for the theatre and was closely involved in the organisation of various top level sports events.
He died on January 25, 2003 following a long illness. He was 60 years old.
Copyright 2008 Agence France-Presse.