Sergey Bubka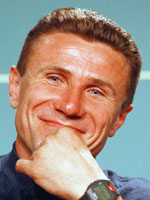 Sergey Bubka
Date of birth

1963-12-04
Birthplace

Vorochilograd (USSR)
Height

185 cm
Weight

82.0 kg
Discipline

pole vault
World Records

35
Olympic Games (1 medal - 1 gold)
World Championships (6 medals - 6 gold)
1st (1983, 1987, 1991, 1993, 1995, 1997)
World Indoor Championships (4 medals - 4 gold)
1st (1985, 1987, 1991, 1995)
European Championships (1 medal - 1 gold)
European Indoor Championships (1 medal - 1 gold)
Records
1st man to clear 6 meters (13/07/1985 in Paris)
Indoor record: 6.15m (world record - 21/02/1993 in Donetsk - Ukr)
Outdoor record: 6.14m (world record - 31/07/1994 in Sestrieres - Ita)
World record breaker
Sergei Bubka was the undisputed master of the pole vault over a 14-year period when the Ukrainian produced a unique run of results breaking 35 world records, winning an Olympic title and completing 44 jumps at 6m or more.
After the world championship was created in 1983 he won it six times in a row.
The only disappointments for the brilliant Ukrainian came at the Olympic Games, where he collected just one gold, this at the Seoul tournament in 1988.
Both in Barcelona in 1992 and four years later at Atlanta his poor form and niggling injuries ruined his chances and he took an early exit on both occasions.
The "Tsar", as he was known, recorded a world record 6.14m leap at altitude in Sestrieres (Italy) on July 31, 1994, crowning a glorious period of pole vaulting of the highest calibre.
In ten years of competition (1984-94) the Ukrainian had added a whopping 29 centimetres to the previous world best set by France's Thierry Vigneron.
In that period Bubka improved his record on 12 occasions, and by beating the world record centimetre by centimetre he took full advantage of the generous financial rewards offered by the IAAF for each new world record set.
Kept the faith
Born in 1963, Ukraine's most famous athletics export grew into a powerful all rounder capable of running 100m in 10.3 seconds.
His overall results were so impressive his coaches earmarked him for a move to the decathlon.
But like his brother Vassili before him he kept faith with his discipline, a decision that at least had no apparent effect on his his annual income (he now lives in Monaco).
After a disastrous year in 1996 when injury kept him from producing anywhere near his best at the Olympic Games, he returned to form in 1997 to win and retain his 6th world title, a record in itself.
Due to a premature return to action after injuring his feet Bubka had to drop out of the world championships in Seville (1999).
One last tilt at the Olympic prize at Sydney in 2000 ended in disappointment again after the 37-year-old failed to get over the first height, fixed at just 5.70m.
Bubka has been a member of the International Olympic Committee (IOC) since late 1999, and in 2002 was elected to the IOC athletes commission, a ringing endorsement of this exemplary athlete's contribution to sport.
In December 2002, he was appointed as an advisor to the Ukrainian Prime Minister for social questions and became president of his country's Olympic committee in June 2005.
Copyright 2008 Agence France-Presse.