Vera Caslavska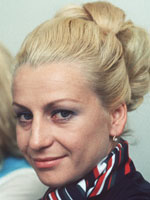 Vera Caslavska
Date of birth

1942-05-03
Birthplace

Prague
Height

160 cm
Weight

55.0 kg
Discipline

gymnastics
Olympic Games (11 medals - 7 gold, 4 silver)
All-around: 1st (1964, 1968)
Teams: 2nd (1960, 1964, 1968)
Vault: 1st (1964, 1968)
Uneven bars: 1st (1968)
Beam: 1st (1964), 2nd (1968)
Floor: 1st (1968)
World Championships (10 medals - 4 gold, 5 silver, 1 bronze)
All-around: 1st (1966), 2nd (1962)
Teams: 1st (1966), 2nd (1958, 1962)
Vault: 1st (1962, 1966)
Beam: 2nd (1966)
Floor: 2nd (1966), 3rd (1962)
European Championships (14 medals - 11 gold, 1 silver, 2 bronze)
All-around: 1st (1965,1967), 3rd (1961)
Vault: 1st (1965, 1967), 2nd (1959)
Uneven bars: 1st (1965, 1967)
Beam: 1st (1959, 1965, 1967)
Floor: 1st (1965, 1967), 3rd (1961)
Ability and integrity
Rated by some as the best female gymnast of all time Czechoslovakia's Vera Caslavska caused a sensation at the Tokyo and Mexico Olympic Games, winning a total of seven gold medals.
With grace and an extraordinary physical presence Caslavska, a former member of the Prague ballet troop, dipped into the worlds of figure skating and ballet to help build up her impressive repertoire.
Indeed, initially Caslavska had showed promise as a figure skater, but in 1957 she was invited to take part in nationwide trials to find gymnastic talent.
Her impact was instant and within a year she had made her debut at the world championships, winning silver in the team event.
Her first European title came in 1959 on the floor.
Beneath the sporting brilliance, which was to accompany the one-time secretary through several successful world and Olympic campaigns, lay a simmering resentment with the political events in her home country.
Two months prior to the Mexico Games in 1968, where she hoped to defend three Olympic titles, Caslavska signed "the 2000-word manifesto", attacking the Soviet invasion of Czechoslovakia.
When Soviet tanks rumbled into Prague on August 21st, she was forced to flee.
No compromise
In the end, a compromise was reached with the authorities and she was allowed to leave for the 1968 Mexico Games, where she added a further four gold medals and two silver to her haul.
Sharing first place in the floor exercises with a Soviet competitor she again displayed her political opposition by turning her head away when the Soviet national anthem was played.
A day after the competition Caslavska married the middle distance runner Josef Odlozil - 1500m silver medallist at Tokyo four years earlier - in Mexico City.
But on their return to Prague her husband was expelled from the army and in January 1971 she was ousted from her club, Red Star.
In 1975 she was given the job as coach to Prague's Spartak club. In 1979 the authorities allowed her to leave for Mexico to supervise Mexican gymnasts in the run-up to the Moscow Games.
She remained there for two and a half years.
After the fall of the communist regime in 1989 she became president of Czechoslovakia's National Olympic committee.
In 1993 personal tragedy struck when Odlozil, whom she had divorced in 1987, was killed in a fight with her son Martin. The incident triggered a bout of severe depression and she became a virtual recluse in a Prague institution.
In 1995 Caslavska became a member of the International Olympic Committee but retired in 2001 for health reasons.
Copyright 2008 Agence France-Presse.