Ian Thorpe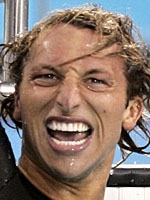 Ian Thorpe
Date of birth

1982-10-13
Birthplace

Sydney
Height

195 cm
Weight

96.0 kg
Disciplines

100m, 200m, 400m freestyle, freestyle relays
World records

23 (18 in long-course: 200, 400, 800m freestyle, 4x100 and 4x200m freestyle relays, 5 in short-course: 200, 400m freestyle, 4x200m freestyle)
Olympic Games (9 medals - 5 gold, 3 silver, 1 bronze)
100m freeestyle: 3rd (2004)
200m freestyle: 1st (2004), 2nd (2000)
400m freestyle: 1st (2000, 2004)
4x100m freestyle relay: 1st (2000)
4x200m freestyle relay: 1st (2000), 2nd (2004)
4x100m medley relay : 2nd (2000) - did not take part in the final
World Championships (13 medals - 11 gold, 1 silver, 1 bronze)
100m freestyle: 3rd (2003)
200m freestyle: 1st (2001, 2003)
400m freestyle : 1st (1998, 2001, 2003)
800m freestyle: 1st (2001)
200m individual medley: 2nd (2003)
4x100m freestyle relay: 1st (2001)
4x200m freestyle relay : 1st (1998, 2001, 2003)
4x100m medley relay: 1st (2001)
World Short Course Championships (3 medals - 2 gold, 1 silver)
200m freestyle: 1st (1999)
400m freeestyle: 2nd (1999)
4x100m freestyle relay: 1st (1999)
Commonwealth Games (9 medals - 8 gold, 1 silver)
100m freestyle: 1st (2002)
200m freestyle: 1st (1998, 2002)
400m freestyle: 1st (1998, 2002)
100m backstroke: 2nd (2002)
4x100m freestyle relay: 1st (2002)
4x200m freestyle relay: 1st (2002)
4x100m medley relay: 1st (2002)
Pan Pacific Championships (11 medals - 9 gold, 2 silver)
100m freestyle: 1st (2002)
200m freestyle: 1st (1999, 2002)
400m freestyle: 1st (1999, 2002), 2nd (1997)
4x100m freestyle relay: 1st (1999, 2002)
4x200m freestyle relay: 1st (1999, 2002)
4x100m medley relay: 2nd (2002)
Thorpe calls time on short but spectacular career
Ian Thorpe, the remarkable Australian icon, has done it all: world records (23), world championship titles, Olympic gold (5) and multiple world championship victories.
His exceptional strength, technique and ability made him one of the highest paid and immediately recognisable names in world sport.
A sign of how highly he was regarded could be seen by the wave of tributes that poured in when he surprisingly announced his retiremet in November 2006 at the age of 24.
"In fifty years from now Australians will still marvel at the feats of Ian Thorpe," was one of many compliments paid on this occasion by Australian Olympic Committee president John Coates.
Although a modest man he had phenomenal drive in competition, setting himself goals which include beating his own personal best times (often world records) whenever he went into the pool.
At the world championships in Fukuoka in Japan in 2001 the Australian became the first person in history to take six world titles at a single meeting.
He had a phenomenal time in Manchester, England in 2002, winning six gold medals at the Commonwealth Games after collecting five at the Pan Pacific championships in Japan, where he is known as the Tiger Woods of swimming.
The emergence of America's Michael Phelps and the resurgence of Alexander Popov also had their effect in motivating Thorpe to greater heights.
Social butterfly
Thorpe became a household name after his outstanding performances at the 2000 Olympic Games in Sydney, when he won three gold medals and a silver even though he had to share the limelight with Dutch ace Pieter van den Hoogenband.
He briefly became something of a social butterfly, a "must" at all the glamour events, rubbing shoulders with an A-list of fashion designers, models and movie stars.
He is reputedly a multi-millionaire, he has sponsor and media commitments and at the 2001 world championships decided he needed bodyguards.
Started young
He began to make waves in 1996, winning everything from the 400m individual medley to the 50m freestyle in the National and State Age championships. Although originally a backstroker, Thorpe soon began competing in the 100m, 200m and 400m freestyle events.
Impressive performances in the 1998/99 FINA World Cup, the world short-course championships in Hong Kong and his four gold medals from the Pan Pacific swimming championships made him a star in Australia.
There was drama at the Australian Olympic trials in 2004 when he was initially disqualified in his favoured 400m freestyle event for a false start.
However, after much debate and controversy, the original winner Craig Stevens relinquished his place to allow Thorpe to defend his 400m crown.
The giant Aussie rocked the boat ahead of the Games when he said it would be naive to think the swimming competition would be drugs free and called for better doping controls.
He then added to his legend by winning arguably the best race of the Games, the 200m freestyle when he held off his great rival Pieter van den Hoogenband and the teenage sensation Michael Phelps.
In his favoured 400m race, he added a second gold breaking into tears at his achievement when he touched home just ahead of teammate Grant Hackett.
He was 21 years old when the Games finished, but it was to be his last appearance at a major competition before he dropped his retirement bombshell in November 2006.
Copyright 2008 Agence France-Presse.