Grant Hackett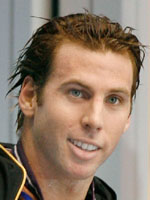 Grant Hackett
Date of birth

1980-05-09
Birthplace

Southport
Height

198 cm
Weight

96.0 kg
Disciplines

400m, 800m, 1500m freestyle
World Records

12 (200m, 400m, 800m, 1500m, 4x200m freestyle relay - short and long course)
Olympic Games (5 medals - 3 gold, 2 silver)
200m freestyle : 5th (2004)
400m freestyle : 2nd (2004), 7th (2000)
1500m freestyle : 1st (2000, 2004)
4x200m freestyle relay : 1st (2000 - did not take part in the final), 2nd (2004)
World Championships (18 medals - 10 gold, 5 silver, 3 bronze)
200m freestyle : 2nd (2005), 3rd (2003)
400m freestyle : 1st (2005), 2nd (1998, 2001, 2003), 3rd (2007)
800m freestyle : 1st (2003, 2005), 2nd (2001)
1500m freestyle : 1st (1998, 2001, 2003, 2005)
4x200m freestyle relay : 1st (1998, 2001, 2003), 3rd (2005)
World Short Course Championships (8 medals - 7 gold, 1 bronze)
400m freestyle : 1st (1999, 2001), 3rd (1997)
1500m freestyle : 1st (1997, 1999, 2002)
4x200m freestyle relay : 1st (1997, 2002)
Commonwealth Games (7 medals - 4 gold, 3 silver)
200m freestyle : 2nd (2002)
400m freestyle : 2nd (1998, 2002)
1500m freestyle : 1st (1998, 2002)
4x100m freestyle relay : 1st (2002)
4x200m freestyle relay : 1st (2002)
Pan Pacific Championships (11 medals - 8 gold, 3 silver)
200m freestyle : 2nd (2002)
400m freestyle : 1st (1997), 2nd (1999, 2002)
800m freestyle : 1st (1997, 2002)
1500m freestyle : 1st (1997, 1999, 2002)
4x200m freestyle relay : 1st (1999, 2002)
Longevity test for Mr Endurance
Australia's swim captain Grant Hackett will chase an unprecedented third 1500m Olympic title at Beijing, a year after floundering so badly, he gave up three world titles on home territory at Melbourne.
Before the stunning form flop at those 2007 worlds Hackett had been the most decorated swimmer in world championship history with 18 medals, including 10 golds. That mantle is now owned by Michael Phelps with 20.
But as Hackett is the only swimmer in history to win the same event (1500m) in four consecutive world championships starting at Perth in 1998, he remains the favourite to achieve his Olympian quest.
He'll be 28 at the Games, where the freestyle supremo also turns his attentions on the inaugural open-water 10 kilometre race.
At Melbourne, he paid dearly for a disrupted preparation, switching coaches, re-locating to Melbourne from Queensland's Gold Coast, an imminent marriage and coming back from a season off with major shoulder surgery.
Later he was to accept that the chief reason behind relinquishing three world titles, 400m, 800m and 1500m, had been a lack of will to put in the punishing training necessary to keep a nose ahead in the ultra-competitive sport.
The legacy at stake
Poland's Mateusz Sawrymowicz ended his four-title domination of the 1500m, where Hackett struggled home a forlorn seventh in the final.
He won his first world title in Perth in 1998 dethroning the illustrious Kieren Perkins, the long-distance star of yesterday's era.
At Sydney 2000, the 1500m was a torrid race where four swimmers went under 15 minutes for the first time, Hackett winning though by a whopping five seconds.
A year later Hackett then smashed Perkins' seven-year 1500m world record, the Queenslander slicing seven seconds off the former mark with a sensational 14:34.56 at the 2001 worlds in Japan. At Fukuoka he was also 2nd in the 800m and 400m finals.
A third consecutive 1500m title at the 2003 worlds suggested he would cruise to the 1500m gold at Athens, and the giant Aussie touched home well clear again in Greece to retain his Olympic crown.
In the Olympic pool he also pushed superstar Ian Thorpe all the way in the 400m freestyle, eventually settling for silver.
The Montreal world championships of 2005 was one of Hackett's finest hours.
Not only did he claim a record fourth world title in the 1500m, he revealed pure class when retaining his 800m crown with a world record 7min 38.65sec and wasn't even finished there as he also added the 400m to boot.
In late 2007 Hackett was diagnosed with asthma and says he can now turn the full force of his 13 litre lung capacity on a two thronged assault at Beijing, back in full training and enjoying his swimming, Hackett hopes to take the 1500m and the 10km titles.
Results
Copyright 2008 Agence France-Presse.