Inge De Bruijn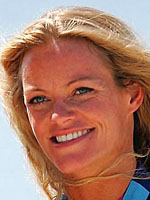 Inge De Bruijn
Date of birth

1973-08-24
Birthplace

Barendrecht
Height

178 cm
Weight

60.0 kg
Disciplines

freestyle, butterfly, relays
World Records

12 (freestyle, butterfly)
Olympic Games (8 medals - 4 gold, 2 silver, 2 bronze)
50m freestyle: 1st (2000, 2004), 8th (1992)
100m freestyle: 1st (2000), 2nd (2004)
100m butterfly: 1st (2000), 3rd (2004)
4x100m freestyle relay: 2nd (2000), 3rd (2004)
4x100m medley relay: 8th (1992)
World Championships (6 medals - 5 gold, 1 bronze)
50m freestyle: 1st (2001, 2003)
100m freestyle: 1st (2001)
50m butterfly: 1st (2001, 2003)
4x100m freestyle relay: 3rd (1991)
European Championships (8 medals - 3 gold, 2 silver, 3 bronze)
50m freestyle: 1st (1999), 3rd (1991, 1993)
100m freestyle: 2nd (1999)
100m butterfly: 1st (1999), 2nd (1991)
4x100m freestyle relay: 1st (1991)
4x100m medley relay: 3rd (1991)
World Short Course Championships (3 medals - 1 gold, 1 silver, 1 bronze)
50m freestyle: 1st (1999)
50m butterfly: 3rd (1999)
4x100m freestyle relay: 2nd (1999)
European Short Course Championships (7 medals - 4 gold, 1 silver, 2 bronze)
50m freestyle: 1st (1998, 2001)
100m freestyle: 1st (2001)
50m butterfly: 1st (1998)
100m butterfly: 3rd (1998)
4x50m freestyle relay: 2nd (2001)
4x50m medley relay: 3rd (2001)
Dutch Diva's Down Under dreamtime
The glamorous Inge de Bruijn swept all before her in 2000 smashing 11 world records including three at the Sydney Olympics as she outclassed all comers in a rampage of titles and records in the 50m and 100m freestyle and the 100m butterfly.
Testament to her brilliance is the fact that two of those world records she set at Sydney, the 50m free and the 100m butterfly, were still standing with the Beijing 2008 Games swinging into view.
De Bruijn was 27 at the time of the Sydney Games where she formed part of triumvirate of Dutch heroes with Pieter van den Hoogenband surprising Ian Thorpe by snatching gold in the men's 100m and 200m freestyle, while cyclist Leontien van Moorsel-Zijlaard also won an impressive three gold medals.
On the darker side there were comparisons to the outright star at Sydney, the sprinter Marion Jones, as both have had to shake off doping slurs.
But Inky, as she became known to those who loved her, carried her phenomenal form into the 2001 Japanese world championships at Fukuoka, claiming titles in the same three events she had dominated at the Olympics a year before.
The long road to Athens
However the pressure of life on top led to personal turmoil and de Bruijn quit the United States and took a year off in 2002 after her coach of six years Paul Bergen sacked her for continually failing to train.
De Bruijn and Bergen were back together some months later and while there was a lull in the record breaking mayhem, she was good enough at the Barcelona worlds of 2003 to claim gold in the 50m freestyle and 50m butterfly.
This return to form whet the palates of those wondering if she could rise to the challenge in Greece and hold off a new generation of swimmers bidding to become the queen of the Olympic pool in 2004.
As it happened Australian Jodie Henry, just 20 years old, took the gold in the main event at Athens, the 100m freestyle, with De Bruijn settling, a few days short of her 31st birthday, for silver.
"I think the silver medal is great. If you get three gold medals in Sydney, everybody expects you to get three here," De Bruijn said at the time.
"But you're four years old and four years further. I'm totally happy with this - of course, I'm aiming for gold in the 50."
And she was as good as her word, claiming her fourth and final Olympic gold by defending her title in the 50m freestyle. For the record she also added a bronze in the 100m butterfly before walking away from the competitive scene forever.
Copyright 2008 Agence France-Presse.