Pieter van den Hoogenband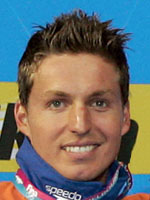 Pieter van den Hoogenband
Date of birth

1978-03-14
Birthplace

Maastricht
Height

192 cm
Weight

84.0 kg
Disciplines

Freestyle, butterfly
World records

5 (100m, 200m freestyle, 4x50m freestyle relay)
Olympic Games (7 medals - 3 gold, 2 silver, 2 bronze)
50m freestyle : 3rd (2000)
100m freestyle : 1st (2000, 2004), 4th (1996)
200m freestyle : 1st (2000), 2nd (2004), 4th (1996)
4x100m freestyle relay : 2nd (2004)
4x200m freestyle relay : 3rd (2000)
World Championships (10 medals - 8 silver, 2 bronze)
50m freestyle : 2nd (2001), 3rd (2003)
100m freestyle : 2nd (2001, 2003)
200m freestyle : 2nd (2001, 2003, 2007), 3rd (1998)
4x100m freestyle relay : 2nd (2001)
4x200m freestyle relay : 2nd (1998)
European Championships (19 medals - 10 gold, 5 silver, 4 bronze)
50m freestyle : 1st (1999), 2nd (2000)
100m freestyle : 1st (1999, 2002), 2nd (2000, 2004), 3rd (2006)
200m freestyle : 1st (1999, 2002, 2004, 2006), 2nd (2000)
50m butterfly : 1st (1999)
4x100m freestyle relay : 1st (1999), 3rd (1997, 2008)
4x200m freestyle relay : 2nd (1997), 3rd (2000)
4x100m medley relay : 1st (1999)
World Short Course Championships (3 medals - 1 gold, 1 silver, 1 bronze)
200m freestyle : 3rd (1999)
4x100m freestyle relay : 2nd (1999)
4x200m freestyle relay : 1st (1999)
European Short Course Championships (14 medals - 8 gold, 4 silver, 2 bronze)
50m freestyle : 2nd (1999), 3rd (1998, 2001)
100m freestyle : 1st (1999, 2003), 2nd (1998, 2001)
200m freestyle : 1st (1998, 1999, 2001, 2003)
4x50m freestyle relay : 1st (1998, 2003), 2nd (2001)
Hoogie in fast lane to triple
The Olympic spotlight will shine brightly on sprint swimmer Pieter van den Hoogenband in 2008 when he bids for a third straight 100m freestyle title, while a no less challenging matter of reclaiming the 200m crown he lost at Athens makes for a fascinating subplot.
Back at the Sydney Games in 2000 the Dutchman showed little respect for big reputations by first winning the 100m freestyle ahead of defending champion Russia's Alexander Popov before stunning race favourite and hometown idol Ian Thorpe to grab the 200m crown too.
The duel between Thorpe, Van den Hoogenband and the dazzling American newcomer Michael Phelps for 200m supremacy made for a thrilling final in the Athens pool in 2004 where Thorpe, the 2003 world champion, paced himself better and pulled away in the latter stages to add a deserved Olympic title to his world title.
But Hoogie, as he is known to his fans, made no mistakes over 100m, beating South Africa's Ronald Schoeman into second while Thorpe did well to take bronze at a distance he doesn't favour.
Schoeman, the 2005 and 2007 100m world champion Filippo Magnini of Italy, France's Alain Bernard and rising Swedish hope Stefan Nystrand stand in his path as VDH aims for the triple Olympic crown in 2008, a feat only previously achieved by Australian woman Dawn Fraser in 1956, 1960 and 1964.
The disappointing news in 2006 that Thorpe was retiring from the sport aged just 24 cleared the path somewhat for Van den Hoogenband to reclaim the 200m title out in China, though the smiley Dutchman said it will be weird not to have that big black fish (Thorpe had a trademark black bodysuit) in the lane next to mine,: the phenomenal Phelps however will need to be taken very seriously.
Success in Europe no platform for world golds
Hoogenband's mother Astrid Verver was an international swimmer herself but only taught her son to swim on a family holiday to Spain when he was 4-years-old.
In 1996 at 18 he came 4th in the 100m and 200m at the Atlanta Games and was 21 when he dominated the 1999 European championships to earn himself the nickname of "the Hovercraft".
At that 1999 European championships in Istanbul he ended Popov's eight year unbeaten run in each of their encounters.
He has eight gold medals from four European championships but the world championships have always proven to be fallow ground and to date he is yet to claim a gold medal on that stage from appearances in 1998, 2001, 2003 and 2007.
For his efforts at Sydney, he was named European athlete of the year in 2000, and if 2004 was slightly less successful, just the one gold and two silvers, 2008, when he will be 30-years-old, provides an opportunity for him to carve out a piece of Olympic history.
Results
Copyright 2008 Agence France-Presse.