Kelly Holmes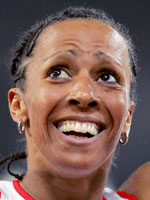 Kelly Holmes
Date of birth

1970-04-19
Birthplace

Pembury
Height

162 cm
Weight

55.0 kg
Discipline

800m, 1500m
Olympic Games (3 medals - 2 gold, 1 bronze)
800m: 1st (2004), 3rd (2000), 4th (1996)
1500m: 1st (2004), 7th (2000)
World Championships (3 medals - 2 silver, 1 bronze)
800m: 2nd (2003), 3rd (1995)
1500m: 2nd (1995)
European Championships (2 medals - 1 silver, 1 bronze)
800m: 3rd (2002)
1500m: 2nd (1994)
World Indoor Championships (1 medal - 1 silver)
Commonwealth Games (3 medals - 2 gold, 1 silver)
1500m: 1st (1994, 2002), 2nd (1998)
Holmes sweet Holmes
Kelly Holmes stamped her name in the sporting history books in spectacular fashion at the Athens Olympics in 2004 when she came out of nowhere to win the extremely rare double of 800m and 1500m gold.
For the former soldier it was a fairytale finish to a career of lower podium places at major competitions as she became a national and global hero thanks to two races which changed her life forever.
First in the 800m race, she just got to the line first in a fierce sprint, edging her good friend and the favourite Maria Mutola who cruelly finished fourth behind Hasna Benhassi of Morocco and Slovenian Jolanda Ceplak in a thrilling burst to the line.
The look of joy and shock on the face of Holmes was one of the most memorable images from Greece and the confidence she gained carried into the 1500m race which she won with confidence and style to cap a rare double that only two other women have achieved.
Bookmakers offered odds of 100 to 1 and her feat was described by one commentator as the greatest moment in British athletics.
She had held British and Commonwealth records and won golds at those tournaments, and though once considered world number one over 1500m, she had never won a major title until Athens.
She started to run at the age of 12 as a schoolgirl in Kent, southern England but despite winning international events turned her back on an athletics career to join the British army at 18, where she spent nine years and was promoted to the rank of sergeant.
After four years away from the track she returned in 1992 and by the European Championships at Helsinki in 1994 was good enough to win the 1500m silver. A year later at the world championships at Gothenburg, she took silver in the 1500m as well as a bronze in the 800m.
From injury woe to Olympic joy
The Sydney Games in 2000 was to prove one of her finest moments as she sped to a bronze in the 800m, a medal she says was one of the highlights of her career.
Paris and the world championships in 2003 was another happy hunting ground for Holmes as she ran a marvellous race to take 800m silver once again behind Mutola although she pulled out of the 1500m race on the advice of her coach.
Then came the pinnacle of her career and the two famous Olympic titles on the Athens track which sent her popularity into orbit and didn't harm her bank balance either.
She was given the honourable distinction of becoming a Dame and entered retirement following an emotional farewell appearance in front of home support in Sheffield, England.
She will now become an ambassador for the 2012 Games set for London.
Copyright 2008 Agence France-Presse.