Paula Radcliffe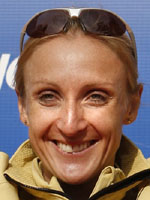 Paula Radcliffe
Date of birth

1973-12-17
Birthplace

Northwich
Height

173 cm
Weight

53.0 kg
Discipline

5000m, 10,000m, cross-country. marathon
World Records

3 (marathon, half-marathon, 10km road race)
Olympic Games
5000m: 5th (1996)
10,000m: 4th (2000)
World Championships (2 medals - 1 gold, 1 silver)
10,000m: 2nd (1999)
Marathon : 1st (2005)
European Championships (1 medal - 1 gold)
World Cross Country Championships (7 medals - 2 gold, 3 silver, 2 bronze)
Short course individual: 2nd (2001)
Long course individual: 1st (2001, 2002), 2nd (1997, 1998), 3rd (1999)
Long course teams: 3rd (1998)
European Cross Country Championships (3 medals - 3 gold)
Individual: 1st (1998, 2003)
Teams: 1st (2003)
World Half Marathon Championships (3 medals - 3 gold)
Commonwealth Games (1 medal - 1 gold)
Other Honours
IAAF Athlete of the year (2002)
BBC Sports Personality of the Year (2002)
The long road to redemption
The celebrated marathon queen and anti-doping campaigner Paula Radcliffe will be under intense scrutiny at Beijing as the Briton hopes to avoid any repeat of her Athens meltdown four years ago.
The tall, slender blond who will be 34 at Beijing has seen her career come to be defined by near misses and failures and a resilient pursuit of redemption.
A string of successes in 2002, a 10000m gold at the Europeans, a Commonwealth 5000m gold, a world long course cross country gold and winning her first two marathons in imperious style won her the IAAF athlete of the year award.
In early 2003, she put in a world record run in the 10km road race, lowered her own world record in the marathon at London with a time of 2hr 15min 25sec and set a new world mark in the half-marathon despite missing the world championships through injury.
So heading out to the 2004 Athens Games, albeit with a poor Olympic record of a 5000m fifth from Atlanta and a 10000m fourth at Sydney, she was firm favourite to win the marathon and expected to make an impact in the 10000m.
Sobbing at the roadside
In the Greek capital, eight women, including Radcliffe and Japan's Mizuki Noguchi, went through the halfway point together in 1:14.02. But at the 25km mark Noguchi broke up the pack with a decisive surge up a long series of inclines.
Struggling in the heat and humidity Radcliffe staggering to a grinding halt around 35km, briefly tried to start running again and then sat down at the roadside and sobbed. Noguchi took the gold.
In hindsight her decision to then take part in the 10000m, from which she retired while straggling badly with eight laps remaining, was an error of judgement. Worse the British press and public deserted her, branding her a choker.
Cold comfort
But there was a change in the weather, first she won the November 2004 New York marathon, and when in the freezing rain of Helsinki she also claimed the 2005 world championship marathon gold, redemption was in sight.
Radcliffe then got pregnant and gave birth to a daughter in early 2007, injuring her spine in the process and thereby missing the 2007 worlds.
Two months later though she made a triumphant return at the New York marathon making it seven victories from her seven completed marathons, four of her chronos being in the top five ever.
In the run up to Beijing she will compete in only the London marathon and train in the United States.
It must be noted that her triumphs have mainly come in temperate conditions, and the 32-35 degree heat with up to 80 percent humidity expected in China could again prove her nemesis.
Results
Copyright 2008 Agence France-Presse.