Misty May-Treanor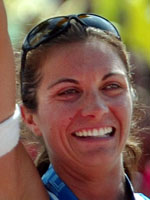 Misty May-Treanor
Date of birth

1977-07-30
Birthplace

Costa Mesa
Height

175 cm
Weight

67.0 kg
Sport

Beach volley
Partner

Kerri Walsh (since 2001), Holly McPeak (1999-2000)
Olympic Games (1 medal - 1 gold)
Beach volley: 1st (2004 with Kerry Walsh), 5th (2000)
World Championships (3 medals - 3 gold)
Beach volley: 1st (2003, 2005, 2007 - with Walsh)
The girls who boss the beach
Californians Misty May and Kerri Walsh have quite simply dominated women's beach volley since they first won the world championship title in 2003.
Both took part in the Sydney Olympics of 2000, Walsh on the indoor team and May on the sand at Bondi Beach, coming fourth and fifth respectively.
After the Games, May split with her previous partner Holly McPeak and formed a duo with Walsh to chase the dream of winning Olympic gold at Athens 2004.
Back in their first season together May and Walsh struggled to a disappointing ninth place at the 2001 world championships in Austria, but have since become rich on prize money, so great has been their success.
With 20 tournament wins from the 37 they contested in the run up to the 2003 worlds they knew they could make a tilt at the title.
In the event the pair had to come from behind in the final in both sets at Copacabana beach to beat defending champions Brazilian pair Adriana Behar and Shelda Bede 21-19, 21-19 for their first world title.
The following year out in Athens they did not lose a single set on their way to a fully deserved Olympic gold medal.
They went on to beat fellow Americans and May's former team-mate Holly McPeak and Elaine Youngs in the semi-final and the Brazilians Behar and Shelda in the final.
May and Walsh defended their world title in both 2005 and 2007, where however young Chinese duo Tiang Jia and Wang Jei ran out noble beaten finalists showing promise for a potential showdown in their backyard at the 2008 Games.
At just 1.75m (5ft 9in) May has brilliant court sense and mobility and is seen now as both the best attacking and defensive player in the game, while Walsh at 1.91m (6ft 3in) is a master blocker.
Footsteps in the sand
Misty is the daughter of Bob (Butch) May who was on the volleyball team for the US at the Mexico Games in 1968. Her mother was also keen on the game and as a kid the family would often watch the games at the Santa Monica Pier where she saw many of the greats play.
She was on the All-American first team from 1996-98 and in her final season won the NCAA athlete-of-the-year award.
She is now married to baseball's Matt Treanor of the Florida Marlins and will contest the Games under the name May-Treanor.
Walsh was on the All-American team for four seasons from 1996-99 where she is remembered as one of the college game's best ever players on account of her all round ability.
She then joined the US volleyball team for two seasons as an outside hitter, helping them the fourth place at Sydney 2000 before throwing in her lot with Misty May.
Results
Copyright 2008 Agence France-Presse.