Paolo Bettini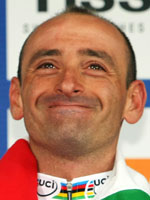 Paolo Bettini
Date of birth

1974-04-01
Birthplace

Cecina
Height

168 cm
Weight

60.0 kg
Professional debut

1997
Teams

M.G. (1997), Asics (1998), Mapei (1999-2002), Quick Step (since 2003)
2008 Season
Tour of Austria (1 stage win)
Tour de France
1 stage win (2000)
Giro d'Italia
2 stage wins (1 in 2005, 1 in 2006)
Tour of Spain
3 stage wins (1 in 2005, 1 in 2006, 1 in 2007)
Classics (World Cup)
Tour of Lombardy (2005, 2006), Milan-San Remo (2003), San Sebastian Classic (2003), HEW-Cyclassics (2003), Liege-Bastogne-Liege (2000, 2002), Zurich Championship (2001, 2005)
World Cup
Overall standings : 1st (2002, 2003, 2004)
World championships
Road race: 1st (2006, 2007), 2nd (2001)
Olympic Games
Road race: 1st (2004)
Other victories
Lugano GP (2006), Tirreno-Adriatico (2004), Camaiore GP (2004), Italian Championship - Road race (2003, 2006), Mediterranean Tour (2003), Coppa Sabatini (2002), Tour of Latium (2002), Tour of the Wallon region (2002), Tour of the Ligurian Riviera (2002), Coppa Placci (2001), Cecchi-Gori Memorial (2000), International Cycling Week (2000), Tour of the Province of Lucca (1999)
Litle Big Man
He may be just 1.68m tall but Italy's Paolo Bettini stands head and shoulders above the cycling world and after winning the last two world road race championships, he heads out to Beijing as defending Olympic champion too and is hot favourite to win it again.
Bettini is a wily, master tactician who can boast great stamina, a great turn of pace and ferocious climbing in the medium hills, making him one of the best one day racers in the history of the sport.
He turned professional in 1999 and soon earned the nickname 'the Cricket" because of his electric busts of power. He learned his trade in the shadow of Michele Bartoli, then at his zenith. But in 2000 while riding for Mapei, Bettini broke free, unfurling his wings and producing those trademark audacious attacks coupled with astute tactical analysis.
From thay moment the titles seemed to be there for the taking: Liege-Bastogne-Liege was the fitst in 2000 and he took it again in 2002, a year later he won the holy grail of one day races the Milan-San Remo and the San Sebastian Classic and then the Tour of Lombardy in 2005 and 2006.
He was national champion in 2003 and 2004, won three World Cups in 2002, 2003 and 2004, the Olympic road race title at Athens 2004 and two world championship road race titles in 2006 and 2007.
Need we say more.
Pint-sized puncher
Bettini is comfortable on all types of terrain and in all types of weather and is at his best on rolling ground with lower sized hills where his attacking temperament produces marvellous performances.
A native of Cecina on the Tuscan coast he once worked in road accident prevention but now owns two Ferraris and a Porsche. He's most at home in fact at home, with the two women in his life, his wife Monica and daughter Veronica.
Sadly his elder brother Sauro was killed in a road accident just days after Paolo's first world title in Salzburg in 2006.
At the 2007 world championships in Stuttgart, Bettini was the centre of a controversy when he refused to sign an anti-doping agreement to provide a compulsory blood sample saying it was a breach of his human rights and because of a clause which demands the repayment of a year's salary after a positive drugs test.
Bettini won the race with a masterful performance and first-class support from his entire team before miming firing off rifle shots as he crossed the line: "So many people have shot at me this week that I wanted to fire back a few bullets of my own," he explained.
He'll be gunning for one last victory at Beijing in 2008.
Results
Copyright 2008 Agence France-Presse.