Leontien Van Moorsel-Zijlaard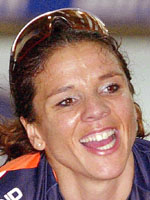 Leontien Van Moorsel-Zijlaard
Date of birth

1970-03-22
Birthplace

Boekel
Height

165 cm
Weight

65.0 kg
Disciplines

track, road
World records

2 (hour, 3km)
Olympic Games (6 medals - 4 gold, 1 silver, 1 bronze)
3km individual pursuit: 1st (2000), 3rd (2004)
Individual road race: 1st (2000)
Individual time trial: 1st (2000, 2004)
Points race: 2nd (2000)
World Championships (11 medals - 9 gold, 2 silver)
Pursuit: 1st (1990, 2001, 2002, 2003), 2nd (1998)
Individual road race: 1st (1991, 1993), 2nd (1998)
Individual time trial: 1st (1998, 1999)
Team time trial: 1st with Holland (1990)
Tour de France (2 medals - 2 gold)
Wheels of fortune
Dutch cycling legend Leontien Van Moorsel had already racked up an impressive collection of Olympic and world titles before stepping out of the saddle for good in 2004 when she left the Athens Games in a blaze of glory.
While the Sydney Games in 2000 represented one of her finest achievements where she won three gold medals, a silver and set a world record, it was on the streets of Athens four years later where she remarkably overcame a heavy fall in the road race to outclass the field in the time-trial and put the finishing touches on a career that featured titles at every level.
On top of that blistering ride to the time-trial gold, her fourth career Olympic gold, she even added a consolation bronze in the track cycling individual pursuit. She then stepped into retirement and left a gaping hole in a sport where she will be remembered as one of the all-time greats.
In Sydney, Van Moorsel set fire to the competition grabbing gold in the road race, time trial and individual pursuit and silver in the points race as well as setting a brand new world record in the exciting pursuit race.
But a career that blossomed early almost withered away early too after her obsessive training slipped into a chronic slimming disease.
At 20 she became pursuit world champion and her good looks saw her front publicity campaigns and had her face splashed across the pages of fashion magazines.
One day though her coach suggested she might lose a little weight so as to better perform on stage races that featured mountain terrain. She lost 15 kilos, adopting an inhuman training schedule to burn off the few calories she ingested.
It worked at first. She won the world road race title again in both 1991 and 1993 and won the women's Tour de France in 1992 and 1993 too, making her a massive star in Holland.
The crash came in 1994 when her struggle with bulimia span off track and saw her gain over 40 kilos in one year. A change came after her marriage to coach Michael Zijlaard and eventually her weight levelled out at 68 kg.
Hero of the hour
At the 1998 world championships in Valkenburg, Holland, she stormed to victory in the time trial and came second in the road race.
Taking a more relaxed approach to life she would wait tables from time-to-time at her brother-in-law's Rotterdam restaurant, giving out as many autographs as bills.
She won another world championships time trial in 1999 and headed out to Sydney with firm ambitions, where she became women's cycling's top ever medal winner and becoming a global star.
In 2003 she won her third successive pursuit world title, her fourth in all, and in the October of that year set a world record in the one hour dash by covering 46.065km, almost a kilometre further than the previous record set by Frenchwoman Jeannie Longo.
Dutch champion for the 8th time in 2004 she proved her mediocre showing at the world championships in Melbourne was a mere blip, with her farewell swansong in Greece.
Copyright 2008 Agence France-Presse.