Alexandre Despatie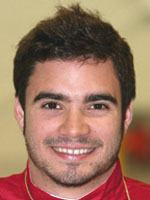 Alexandre Despatie
Date of birth

1985-06-08
Birthplace

Montreal
Height

167 cm
Weight

73.0 kg
Sport

Diving
Coach

Michel Larouche
Olympic Games (1 medal - GOLD : 1)
3m springboard : 2nd (2004)
10m platform: 4th (2000, 2004)
World Championships (6 medals - GOLD - 3 - SILVER : 3)
1m springboard : 1st (2005)
3m springboard: 1st (2005), 2nd (2007)
10m platform: 1st (2003), 2nd (2001)
3m synchro (men) : 2nd (2007)
World Cup (4 medals - 1 gold, 1 silver, 2 bronze)
1m springboard: 2nd (2002)
3m springboard: 1st (2004)
10m platform: 3rd (2004)
10m synchronised: 3rd (2004 - with Philippe Comtois)
High platform wonderkid
Canadian superstar diver, come teen flick actor, Alexandre Despatie is one of the few people standing in the way of a Chinese springboard and platform sweep at Beijing.
The Montreal native first plunged to fame ten years ago when revealing a dazzling potential by becoming the youngest ever Commonwealth champion (or champion of any international competition) with a 10m platform title at Kuala Lumpur in 1998 at just 13-years-old.
His prodigious form continued at the Sydney Games of 2000 when he placed fourth in the 10m platform competition showing nerves of steel despite his tender age of 15.
China's Tian Liang won the gold in Sydney and was to hold the burgeoning Despatie at bay in Fukuoka a year later when the Canadian took a silver medal home from the high platform of his first senior world championships.
At the 2002 Commonwealth Games in Manchester, he nearly swept the board winning gold in the 1m and 3m springboard events and added a bronze in the 10m platform.
He had turned 18 by the time the 2003 worlds came around, a pivotal event for Despatie as he finally trumped Liang by claiming the 10m title at Barcelona, setting the stage perfectly for the Athens Games.
But there were further surprises in store for the Canadian at those Greek Games when he finished out of the medals again from the high platform where he had to watch Liang triumph in an event he had harboured real hopes of winning.
However, against all the odds, he turned in a silver medal winning performance in the 3m springboard.
Taking the plunge
This marked something of a new beginning fro Despatie and when the 2005 worlds were staged in his hometown, he put in a star performance claiming later the cheers and roars that disturb some athletes urged him to greater heights. He was to win the title from both the 1m and 3m events, making him the outright man of the tournament in Montreal.
After a training incident he was to miss most of 2006, struggling to overcome a neck injury, and would have been considered rusty going out to the 2007 worlds.
At that time there was also the added distraction of his film role in a teenage romantic comedy called "Taking the plunge", where the magnetic youngster must have felt rather at home playing an Olympic diver!
He was to turn in another star performance at the Melbourne world championships of 2007 where he set the early points pace from he 3m spring board upstaging world number one He Chong and his teammate Kai Qin in the preliminary rounds only to fall off the pace and eventually settle for silver behind Qin.
He was also edged into silver in the 3m synchro and came 4th in the 10m platform, suggesting Despatie has plenty to offer in all events when the Beijing Games dominate the world stage.
Results
Copyright 2008 Agence France-Presse.