Jingjing Guo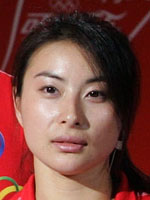 Jingjing Guo
Date of birth

1981-10-15
Birthplace

Hebei
Height

162 cm
Weight

48.0 kg
Discipline

1m, 3m, 10m, synchronised
Olympic Games (4 medals - 2 gold, 2 silver)
10m platform: 5th (1996)
3m springboard: 1st (2004), 2nd (2000)
3m synchronised: 1st (2004/with Wu Minxia), 2nd (2000/with Fu Mingxia)
World Championships (9 medals - 8 gold, 1 silver)
3m springboard: 1st (2001, 2003, 2005, 2007), 2nd (1998)
3m synchronised: 1st (2001, 2003, 2007/with Wu Minxia, 2005/with Li Ting)
World Cup
3m springboard: 1st (2000, 2001, 2002), 2nd (2004), 3rd (1999)
3m synchronised: 1st (1995, 1999, 2004/with Wu Minxia), 2nd (2000)
10m synchronised: 1st (1995)
Team event: 1st (1995, 2000)
Mixed team event: 1st (1995, 1999, 2000)
Grand Prix (final)
3m springboard: 1st (1999, 2000, 2003)
3m synchronised: 1st (2003)
1m springboard: 1st (2002)
Asian Games (1 medal - 1 gold)
3m springboard: 1st (1998, 2002)
3m synchronised: 1st (2002, 2006)
Guo goes into history books
In world championship history no other diver has managed to win four consecutive titles in the same event, making China's Guo Jingjing, also Olympic champion, the outright monarch in her 3m springboard speciality.
Still only 26-years-old, the beauty from Hebei just south of Beijing, is making this home Olympics her retirement event where the gold medal is hers to lose.
"I think the biggest rival (in Beijing) will be myself, but I really don't want to think about it. The thought of being there simply scares me at this stage," she said after her fourth world title win in Melbourne in March 2007.
In reality, the main threat to het Olympic title comes from compatriot Wu Minxia
While the Olympics may be frightening Guo sees the world championships, where she has dominated the 3m springboard since 2001, in a whole other light.
"It has always been an important event. I received my first gold in 2001 and then in 2003, while, I was preparing for Athens.
"In 2005, it proved my capabilities in winning, and this year, it is again preparing me for Beijing next year," she explained.
Path to glory
Guo won diving competitions at every level as a youngster earning a selection to the China team that went to the 1996 Atlanta Games, where she finished fifth in the 10m platform at the tender age of 15.
Her celebrated compatriot Fu Mingxia won the gold in that competition but the two girls teamed up four years later in Sydney to take the silver medal in the 3m synchronised competition just behind Russia's Vera Ilina and Julia Pakhalina.
Wu deprived Guo of an individual title in Australia as the two girls finished one-two in the 3m event, forcing the younger Guo to settle for a pair of silver medals.
The year of 2000 however was not without glory as Guo won the prestigious Grand Prix final for the second year running.
Her path to more titles then opened up invitingly as Fu retired to start a family, leaving Guo to embark on the first of her glorious world championship campaigns at Fukuoka, Japan in 2001.
History tells us she was also successful at Barcelona 2003, Montreal 2005 and Melbourne 2007; any bets for Beijing 2008?
Results
Copyright 2008 Agence France-Presse.