Sebastian Coe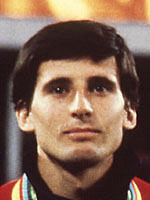 Sebastian Coe
Date of birth

1956-09-29
Birthplace

London
Height

176 cm
Weight

60.0 kg
Discipline

middle distance
World records

10 (800m, 800m indoor, 1000m, 1500m, mile, 4x800m)
Olympic Games (4 medals - 2 gold, 2 silver)
800m: 2nd (1980, 1984)
1500m: 1st (1980, 1984)
European Championships (4 medals - 1 gold, 2 silver, 1 bronze)
800m: 1st (1986), 2nd (1982), 3rd (1978)
1500m: 2nd (1986)
European Indoor Championships (1 medal - 1 gold)
Ready, steady, Coe!
Sebastian Coe was not only the first athlete to simultaneously hold three separate world records (800m, mile and 1500m) but was also the first man to win back-to-back Olympic 1500m titles, achieved at the 1980 and 1984 Games after epic struggles against his countrymen Steve Ovett and Steve Cram.
After retiring from competition Coe went on to thrive in business and politics and is currently the president of London's 2012 Olympic organising committee after playing a crucial role in landing the event. Some now see in him a possible future president of the IOC itself.
He was born in London in 1956 but raised in the Northern town of Sheffield where his engineer father introduced him to cross-country at an early age.
While his first podium came at the 1978 European Championships with a third place in the 800m, it was in July and August of the following year that he was to set the famous three world records.
First came the 800m with a time of 1min 42.4sec, then he improved the mile world record with a chrono of 3min 49.0sec before concluding this magnificent feat by running 3min 32.1sec in the 1500m.
So it was that he and Ovett headed out to the 1980 Moscow Games, albeit with no American rivals to beat, as hot favourites to dominate proceedings.
Turning the tables
Coe had been favourite to take the 800m but was surprised by Ovett, who set himself up for a double crown a few days later as he was already favourite to win the 1500m, where he was unbeaten in three years.
However, Coe turned the tables on his rival digging deep to come from behind and win the 1500m, leaving each man with the medal the other had expected to win.
A year later, in June 1981, at the Stadio Comunale of Florence, Coe set a new 800m record of 1min 41.73sec that would stand for 16 years.
At the Los Angeles Games of 1984 Coe retained the 1500m gold to establish the first ever back-to-back Olympic win in the event with a victory over another Briton, Steve Cram.
He was again frustrated in his so-called preferred event of 800m though and had to content himself once more with the silver medal when beaten by Joaqim Cruz of Brazil.
Los Angeles was a major media event and as Coe was one of its stars became the first British athlete to become rich from the sport. It was also to be his final Olympics as he came down with a cold at the time of the British selection for Seoul.
Coe went on to be a member of the British parliament serving one term the conservative government of 1992-97 and was at one time personal advisor to then party leader William Hague. He was made a Baron in 2000 and as such has a lifetime peerage that affords him a permanent seat in Britain's upper chamber of parliament the House of Lords.
In May 2004 Coe was named president of London's candidacy for the 2012 Games, and was credited with running a brilliantly political campaign that defeated the long time favourite Paris.
He was then rewarded with the job of leading the organising committee and was also made a knight of the British empire.
Interestingly football's world governing body FIFA have also made him their ethics commissioner, an independent watchdog for the sport.
Copyright 2008 Agence France-Presse.