Stanislav Pozdniakov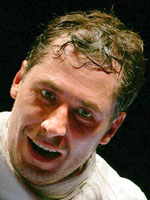 Stanislav Pozdniakov
Date of birth

1973-09-27
Birthplace

Novossibirsk (USSR)
Height

186 cm
Weight

90.0 kg
Discipline

Sabre
Olympic Games (5 medals - 4 gold, 1 bronze)
Individual sabre: 1st (1996)
Team event: 1st (1992, 1996, 2000), 3rd (2004)
World Championships (17 medals - 10 gold, 5 silver, 2 bronze)
Individual sabre: 1st (1997, 2001, 2002, 2006, 2007), 2nd (1994, 1999, 2005)
Team event: 1st (1994, 2001, 2002, 2003, 2005), 2nd (1995, 1997), 3rd (1999, 2006)
European Championships (15 medals - 12 gold, 3 bronze)
Individual sabre: 1st (1994, 2001, 2002, 2003, 2004), 3rd (2000, 2007)
Team event: 1st (2000, 2001, 2002, 2003, 2004, 2005, 2007), 3rd (2006)
World Cup
1st (1994, 1995, 1996, 1999, 2000)
Flashing blade
In the 16 years preceeding the Beijing Games, Stanislav Pozdniakov has cut and thrust his way to more individual fencing gold medals than any other swordsman in the history of the sport.
With his fifth world championship sabre gold on home soil at the 2007 St Petersburg event the then 34-year-old took his tally to eleven, with five European and one Olympic title, with a futher 15 golds in team events.
He took this particular honour from the Belorussian foil master Alexander Romankov, who had held the record for 24 years.
Born in Novossibirisk, Russia in 1973 he was a relative latecomer to the sport, which he took up at a University where he eventually graduated with a degree in teaching.
His progression in the art of attack under the guidance of his Master of arms professor, a certain Mr Pissetski, was a phenomenon.
So much so that he was picked for the 1992 Olympic side where alongside Vadim Guttsayt, Grigory Kiriyenko and Georgy Pogosov the CIS team eased to a 9-5 win over Hungary in the final.
He was part of the Russian team that lifted the 1994 world championships where he also won silver in the individual sabre.
A first major individual title came in 1994, carving his way to the World Cup crown and successfully defended that sabre title a year later.
Back on the biggest stage of all at the Atlanta Games of 1996 and still just 22 years old he ran through to the individual sabre final where he met teammate Sergei Sharikov, who he narrowly beat thanks to two late touches.
The two were together in the team that again beat Hungary in the team final, sending Pozdiakov home with two Olympic gold medals in his suitcase.
Kamikaze
In 1997, he won his first individual world championship gold to confirm his arrival as the sport's dominant force, outclassing Italy's Luigi Tarantino in the final.
He has won four further world titles in 2001 at Nimes and 2002 in Lisbon (where he also won team golds) and in 2006 and 2007.
At the Sydney Games of 2000 he suffered a shock defeat in the quarter-finals of the individual sabre, cut down by the Frenchman Mathieu Gourdain. However, in way of recompense, alongside Sergei Charikov and Alexei Frossine, the Russian team beat France in the team final.
At the 2004 Games in Athens, he was left with a sour taste, upset in the quarter-finals by Dmitri Lapkes of Belarus while his only consolation was that Russia edged the Americans in the battle for team bronze.
Some would say his style has a kamikaze edge to it but his panache has the casual observer enthralled despite what some purists may think.
Copyright 2008 Agence France-Presse.