Marian Dragulescu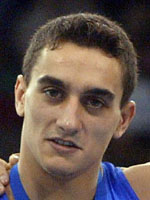 Marian Dragulescu
Date of birth

1980-12-18
Birthplace

Bucarest
Height

162 cm
Weight

62.0 kg
Discipline

floor, vault
Club

Dinamo Bucarest
Olympic Games (3 medals - 1 silver, 2 bronze)
Teams: 3rd (2004)
Floor: 2nd (2004)
Vault: 3rd (2004)
World Championships (7 medals - 6 gold, 1 silver)
Floor: 1st (2001, 2002, 2006)
Vault: 1st (2001, 2005, 2006), 2nd (2003)
European Championships (14 medals - 9 gold, 3 silver, 2 bronze)
All-around: 1st (2004), 3rd (2000)
Teams: 1st (2002, 2004), 2nd (2000, 2006)
Floor: 1st (2000, 2004, 2005), 2nd (2006), 3rd (2002)
Vault: 1st (2002, 2004, 2006)
A chance to set the record straight
Marian Dragulescu has unfinished business as the Beijing Games take top billing in 2008 and provide what will likely be the Romanian's last chance to win the ultimate title in a gymnasts career, the Olympic gold.
Having whittled down a diverse agenda to concentrate on his speciality floor and vault, Dragulescu won world titles in both events in 2006. But Father Time is catching up with him and he will be 27 by the time the highly anticipated Games in China take place.
A six-time world champion and the 2004 all-around European champion, he somewhat unexpectedly could only manage silver on the floor at the Athens Olympics, while adding a pair of bronze medals in the vault and team events.
It was an impressive showing by many standards but Dragulescu's career remains overshadowed by the absence of an Olympic title.
His goldless Games in Greece had appeared set to erase that chink after he had won four titles including the all-around at the Europeans that year, but he will line up as one of the favourites in the floor and vault at Beijing.
Showing Character
After practicing the sport for a decade he first came to prominence in 1998 but was considered something of a rough diamond.
At the European junior championships he won gold on the pommel horse, silver on the floor and bronze with his vault, two disciplines he would later gain greater satisfaction from in the senior championships.
The budding champion picked up a bit of a reputation for giving his coaches a hard time, but this mechanic's son had desire in bucket fulls to make up for it.
Desire that won him an all-around bronze and a floor gold at the 2000 European championships in Bremen ahead of the Sydney Games.
At those 2000 Olympics he had a rather tougher time of it, coming sixth on the floor and 13th in the all-around on his debut on the biggest stage of all.
He soon overcame any disappointment suffered in Sydney at the world championships at Ghent in Belgium the following year, where he was in top form, winning gold on the floor and with his vault, disciplines in which he regularly wins medals no matter the competition.
He can now count six world crowns to his name after the recent double at Aarhus, Denmark in 2006 but his quest for the Holy Grail and that all elusive Olympic crown continues and Beijing provides the setting for a chance to complete a career that would leave him remembered as one of the best in his business.
Results
Copyright 2008 Agence France-Presse.