Paul Hamm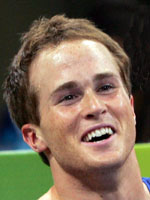 Paul Hamm
Date of birth

1982-09-24
Birthplace

Ashland
Height

166 cm
Weight

65.0 kg
Discipline

all-round, teams, floor, high bar
Olympic Games (3 medals - 1 gold, 2 silver)
All-around: 1st (2004)
Team event: 2nd (2004)
Horizontal bar: 2nd (2004)
World Championships (4 medals - 2 gold, 2 silver)
All-round: 1st (2003)
Team event: 2nd (2001, 2003)
Floor: 1st (2003)
All-around American boy
He was the first American man to win the all-around title at either an Olympics or a world championships, so what a shame for Paul Hamm that there was controversy at both tournaments.
At the Athens Games, Hamm showed remarkable nerve, falling from first to 12th with a stumble in the vault, then rallying to win with top marks on parallel bars and horizontal bar to claim the Olympic all-around gold.
On top of that he showed commendable spirit throughout the judging row that ensued.
South Korea's bronze medallist Yang Tae-Young had had his parallel bars routine improperly scored and would have won without the error, all else being the same, and lodged a long winded and ultimately doomed complaint.
Another South Korean Kim Dae-Eun, incidentally, ended up with the silver.
Hamm and his elder twin Morgan also led the US team to silver in Athens.
In less dramatic circumstances in California at the 2003 worlds, Hamm beat Sydney 2000 all-around silver medallist Yang Wei of China, who thought he had done enough to win, and said as much quite frankly after picking up his medal.
"To be that (first American world champ) for the rest of your life is such an incredible thing," said Hamm, then 20, from Wisconsin.
The Sydney Kid
Hamm, a two-time American national all-around champion, had been in a position to become world all-around champion two years previously, but smacked his face on a high bar twist and dropped to seventh instead of lifting gold.
Ahead of the 2003 championships he admitted to memories of that awful moment haunting him, memories obliterated no doubt by the explosion of joy at the Anaheim stadium when he nailed his last landing to assure gold.
Prior to that at the Sydney Games he was, at 17, the youngest American male gymnast to compete at the Olympics in 2000, but only just, twin Morgan was also on the team, though neither of the young men medalled Down Under.
After lifting these two titles, Hamm decided to take an 18-month break from competition so as to turn the same intense focus he had exerted in gymnastics on his studies.
He made a triumphant return to all-around competition by winning the Winter Cup Challenge in Las Vegas in February 2008, six months ahead of the Beijing Olympics.
Hamm posted a two-day total of 185.85 points with compatriot Raj Bhavsar second at 178.60 in a showcase for US Olympic hopefuls but a hand injury has now hindered his preparations for Beijing and there are questions over his fitness.
Copyright 2008 Agence France-Presse.