Betty Cuthbert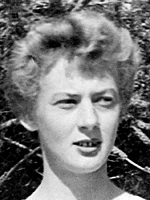 Betty Cuthbert
Date of birth

1938-04-20
Birthplace

Merrylands
Disciplines

100m, 200m, 400m
World records

16 (60m, 100 yds, 200m, 220 yds, 440 yds, 4x100m relay, 4x110 yds, 3x220 yds)
Olympic Games (4 medals - 4 gold)
100m: 1st (1956)
200m: 1st (1956)
400m: 1st (1964)
4x100m relay: 1st (1956)
Golden Girl's impressive return to form
As a specialist short course sprinter already with three Olympic titles under her belt from the Melbourne Games (100m, 200m and 4x100m), Australia's Betty Cuthbert opened up a whole new chapter in women's athletics by coming out of retirement to win another, final, gold medal in the longer event of the 400m in 1964.
Born in 1938, her career began in earnest under the watchful eye of her high school physical education teacher, June Ferguson. At 15, she already began to show promise by setting a national junior record for the 100 yards.
But in 1956, Cuthbert really came to the fore. A few weeks before the start of the Olympic Games, being held in her own country in Melbourne, the 18-year-old athlete improved the 200m world record by two hundredths of a second (23.2).
Having become favourite for the Olympic event, she did not disappoint an anticipating public by winning both short course sprint events, as well as the 4x100m relay.
First 400m champion
The "Golden Girl's" subsequent fortunes on the track proved mixed. Beaten in the Commonwealth Games in 1958, she was unable to defend her Olympic titles in Rome due to injury.
The following year she decided to call it a day and ended her career.
Then, on the advice of Ferguson, her long-time coach, she decided to make a comeback, although this time in the longest of the sprint events, newly introduced into the Olympic programme.
Eight years after Melbourne, she became the first woman to climb the podium to accept a 400m gold medal.
Having become a mother and respected coach following her second retirement, Betty Cuthbert today is faced with an altogether different challenge.
Since 1981 she has been confined to a wheelchair following the news that she had developed the incurable illness, multiple sclerosis.
However she has bravely dealt with her health worries and gains strength from her strong Christian faith.
She carried the Olympic torch at the Sydney Games in 2000 in a wheelchair at the opening ceremony.
Copyright 2008 Agence France-Presse.