Leisel Jones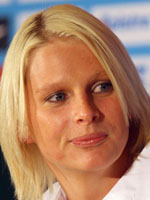 Leisel Jones
Date of birth

1985-08-30
Birthplace

Katherine
Height

177 cm
Weight

66.0 kg
Discipline

100m/200m breaststroke, medley relay
World records

9 (100m, 200m breaststroke, 4x100m medley relay - long course; 100m breaststroke - short course) 26/04/2008
Olympic Games (5 medals - 1 gold, 3 silver, 1 bronze)
100m breaststroke: 2nd (2000), 3rd (2004)
200m breaststroke: 2nd (2004)
4x100m medley relay: 1st (2004), 2nd (2000)
World Championships (12 medals - 7 gold, 3 silver, 2 bronze)
50m breaststroke: 2nd (2007)
100m breaststroke: 1st (2005, 2007) 2nd (2001), 3rd (2003)
200m breaststroke: 1st (2005, 2007), 2nd (2003)
4x100m medley relay: 1st (2001, 2005, 2007), 3rd (2003)
Commonwealth Games (7 medals - 7 gold)
50m breaststroke: 1st (2006)
100m breaststroke: 1st (2002, 2006)
200m breaststroke: 1st (2002, 2006)
4x100m medley relay: 1st (2002, 2006)
Jones targets elusive Olympic title
World and Commonwealth champion as well as being the fastest 100m and 200m breaststroke swimmer ever, the only medal missing from the bulging collection of Leisel Jones is an individual Olympic title as the Aussie ace heads to Beijing with more glory on her mind.
While she is ranked number one in both 100m and 200m events, she has struggled with her nerves in Olympic finals and it is this psychological barrier that she must overcome in China.
A 100m silver medallist at 15 at Sydney 2000, she has since gone on to win seven world titles and the same number of Commonwealth golds though an individual Olympic title still eludes her.
Beijing will be her third Olympiad as she looks to add to that silver in Sydney, a bronze and a silver in Athens and a proud gold as part of the all conquering 4x100m Aussie medley team.
The ghosts of Athens still haunt her as although she travelled to the Greek capital weeks after setting the 200m world record with a time of 2:22.96 in Brisbane American Amanda Beard first pinched back the fastest ever mark ahead of the Games and then raced away to steal gold as Jones ran out of gas down the stretch.
The 100m race was even more frustrating as Jones qualified fastest only to panic when she botched her turn in the final and came home third 1/100th of a second behind teammate Brooke Hanson while Xuejuan Luo of China plundered the gold.
Back to back world hat-tricks
It should be noted that her only major individual wins before Athens had been at the 2002 Commonwealth Games in Manchester after a pair of silvers and a bronze at the 2001 and 2003 world championships respectively.
But while Athens may be a disappointment, it also marked a turning point in her career as she took her standards to another level following the Games.
At the 2005 world championships in Montreal, she turned in her best race in a final, setting a world record in the 200m breaststroke and touching the wall just over four seconds ahead of Germany's Anne Poleska.
That was just the beginning as she added a second gold in the 100m race and the Aussie relay team set a championship record in the 4x100m medley relay as they held off the USA quartet to make it a hat-trick for Jones.
She confirmed her position as the best breaststroke swimmer on the planet two years later in Melbourne when Jones again pulled of a world championship treble which should serve her in good stead for Beijing.
She currently holds the world record in both the 100m and 200m breaststroke.
She will celebrate her 23rd birthday on August 30, just days after the water settles in Beijing and has high hopes of making it a unique celebration.
Results
Copyright 2008 Agence France-Presse.