Hicham El Guerrouj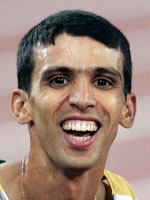 Hicham El Guerrouj
Date of birth

1974-09-14
Birthplace

Berkane
Height

175 cm
Weight

63.0 kg
Disciplines

1500m and 5000m
World Records

5 (1500m, mile, 2000m all outdoor, 1500m and mile indoor)
Olympic Games (3 medals - 2 gold, 1 silver)
1500m: 1st (2004), 2nd (2000)
5000m: 1st (2004)
World Championships (6 medals - 4 gold, 2 silver)
1500m: 1st (1997, 1999, 2001, 2003), 2nd (1995)
5000m: 2nd (2003)
World Indoor Championships (3 medals - 3 gold)
1500m: 1st (1995, 1997)
3000m: 1st (2001)
Honour
IAAF athlete of the year (2002)
Hicham 'the great' dries his tears
Hicham El Guerrouj shed many tears during his glittering athletics career but finally righted the wrongs of two failed Olympic campaigns with a historic double at Athens 2004.
For a while the slender, gracious Moroccan seemed destined to join the greats who for some reason were never to taste Olympic glory.
In 1996 at Atlanta the young pretender tumbled at the bell and picked himself up to finish down the field.
From then on he dominated the 1500 metres - claiming that the secret to his indomitability was his mother's couscous - and arrived at the Sydney Olympics seemingly destined to be anointed.
However, he failed to take account of a relatively unsung Kenyan Noah Ngeny, who he had beaten on every occasion and who had paced him for his 1500m world record.
Unable to shake off the Kenyan, to his utter astonishment he was passed by Ngeny in the straight and literally fell to his knees in despair.
"Four years ago I fell in Atlanta and for four years I kept the photograph of that moment so I could bring it here and tear it up when I won the title," he said tearfully at the time.
"Now I will have to keep it for another four years but I will prevail because I am Hicham the great and still the best runner in the distance."
While some questioned whether he could handle the extra pressure of the Olympics and Ngeny faded into the obscurity he had come from, El Guerrouj just kept on winning, accruing two more outdoor world titles.
Modest ahead of Athens
After a moderate season by his exalted standards in 2004 he approached the Athens Olympics in perhaps less confident frame of mind than before and added the 5000m to his agenda as a measure of insurance.
He should not have worried as he finally fulfilled his destiny and ended any suggestions of mental fallibility by winning the 1500m title on a balmy night in the Greek capital.
Tears flooded down El Guerrouj's face moments after he crossed the line but they were tears of joy and relief compared to the ones of frustration that welled up at after his two previous Olympics finals.
"Only victory can dry the tears of Atlanta and Sydney," El Guerrouj said.
Five days later and his ranking among the gods of the sport was rubberstamped as he beat the peerless Kenenisa Bekele, who was already the 10,000m Olympic champion, and took the 5,000m title to become the first athlete since Pavel Nurmi in 1924 to land both events at the same Games.
"After all that went on in Atlanta and Sydney this is a deserved reward but also unbelievable that I can win two Olympic gold medals in the space of five days."
In tribute to his Olympic triumph, the city of Athens made him an honorary citizen and in May 2006 he announced his retirement from sport at the age of 31.
Copyright 2008 Agence France-Presse.