Stefan Holm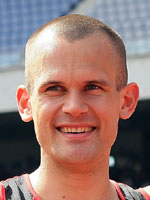 Stefan Holm
Date of birth

1976-05-25
Birthplace

Forshaga
Height

180 cm
Weight

70.0 kg
Discipline

high jump
Olympic Games (1 medal - 1 gold)
World Championships (1 medal - 1 silver)
World Indoor Championships (4 medals - 4 gold)
1st (2001, 2003, 2004, 2008)
European Championships (2 medals - 1 silver, 1 bronze)
European Indoor Championships (3 medals - 2 gold, 1 silver)
1st (2005, 2007), 2nd (2002)
Little big man
Sweden's reigning Olympic champion Stefan Holm cleared the 2.30m mark for the 100th time in 2007 while most athletes rarely get close to that milestone and he reached this century just ahead of the successful defence of the world indoor title that he has now won a record four times.
At the 2008 competition in Valencia, a leap of 2.33m was enough for gold and a joint ranking alongside the great Cuban Javier Sotomayor as the only quadruple champions at the world indoors.
Born in May 1976 Holm stands at just 1.81m and would be world record holder with his 2.37 outdoor and 2.40 indoor marks if the trick was to jump higher than your own height, which it isn't, so Sotomayor (1.93m) who cleared 2.45m in July 1993 still holds the record.
In a Swedish athletics team dominated by triple-jump star Christian Olsson and the golden girl heptathlete Carolina Kluft, Holm had been kept in the shadows until his Athens Olympic gold, claimed with a 2.36m clearance.
It was his 18th consecutive victory of 2004 and the height equalled his season's best as he out-jumped American Matt Hemmingway (a distant relative of the famous author) and Czech Jaroslav Baba who finished second and third respectively.
Holm alone
Holm explained at the time he had filmed all his jumps to analyse them in the run up to the Games, refrained from drinking alcohol for an entire year, and even stayed at home as much as possible so as not to pick up any illnesses.
Four years earlier at Sydney, Holm fell agonisingly short of the medals with a fourth place finish at the 2000 Games, but between then and Athens he had been crowned world indoor champion in 2001 in Lisbon, his first major gold, and defended that crown in 2003 and 2004.
The world outdoor crown though has so far been elusive, his closest call coming in Paris 2003 where the title had seemed to be there for the taking before surprise winner Jacques Freitag of South Africa pushed him into silver.
A year after his finest hour in Athens, Holm had what must be described as a low point at the 2005 Helsinki world championships where he only managed 2.29m for a miserable seventh place.
He did however win the European Indoor gold in 2005 and in an enthralling duel with his compatriot Linus Thornblad maintained his supremacy in the Swedish and European indoor high jump hierarchy by taking the 2007 Indoor gold too with a 2.34m effort.
At the 2007 worlds in Osaka, Holm was one of six men who cleared 2.33, the Swede setting the standard by clearing easily at his first attempt.
But he couldn't make it over 2.35, while Donald Thomas of the Bahamas won the final when he bounded over in one go, while silver and bronze went to Yaroslav Rybakov of Russia and Kyriakos Ioannou of Cyprus.
With the Beijing Games in 2008 swinging into view this fanatical and dedicated athlete is still clearing 2m30 and is therefore in contention to defend his Olympic title.
Results
Copyright 2008 Agence France-Presse.