Tatyana Lebedeva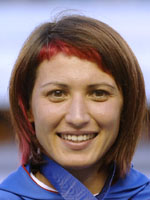 Tatyana Lebedeva
Date of birth

1976-07-21
Birthplace

Sterlitamak (USSR)
Height

172 cm
Weight

69.0 kg
Discipline

long jump, triple jump
World records

3 (indoor triple jump)
Olympic Games (3 medals - 1 gold, 1 silver, 1 bronze)
Long jump: 1st (2004)
Triple jump: 2nd (2000), 3rd (2004)
World Championships (4 medals - 3 gold, 1 silver)
Long jump: 1st (2007)
Triple jump: 1st (2001, 2003), 2nd (2007)
World Indoor Championships (4 medals - 3 gold, 1 silver)
Long jump: 1st (2004)
Triple jump: 1st (2004, 2006), 2nd (2001)
European Championships (1 medal - 1 gold)
European Indoor Championships (1 medal - 1 gold)
Million dollar baby
As if an Olympic title, a clutch of world golds and a world record were not enough for Russia's triple and long jump star Tatyana Lebedeva she also scooped a once in a lifetime million dollars bonus in 2005 with six wins in the Golden League.
The then 29-year-old earned the biggest payday in athletics when becoming the only athlete to record six wins that season at Paris, Oslo, Rome, Zurich, Berlin and Brussels and she was wearing competition number 1,000,000 as she clinched her sixth win and the six figure cheque.
She had controversially opted not to compete in the world championships in Helsinki in August 2005 because of an inflamed Achilles - though she later said she already had two world titles but not a million dollars - in order to stay on course for the prize.
"I think I made a good decision to save my energy and not jump in Helsinki. Now I do not need to worry about my family, my daughter or our future, she said.
Her reign as the world's best was restored in 2006 when she won the world indoor crown in Moscow and added her first European outdoor title at Gothenburg. The year 2007 saw her medal haul continue when she led a Russian sweep at the world championships long-jump and while favourite to claim the triple-jump she had to settle for silver after Cuba's Yargelis Savigne won gold with her stunning first jump..
Olympic turnaround
Heading out to Athens for the 2004 Games she had been red hot favourite for the triple jump gold on account of recent sparkling form and the no small matter of her silver medal from the Sydney Games and the two world titles in between in 2001 and 2003.
So she was bitterly disappointed when nerves saw her underperform and settle for bronze with a below par performance of 15.14m, 20cm less than she had accomplished a month earlier.
"I was very nervous in the beginning because I felt I could win this title. I thought the first jump would be very important but then I faulted, which only made me more nervous," she explained.
But the Olympic gold she had always dreamed of was just around the corner, when she unexpectedly led a Rusiian clean sweep in the long jump with a leap of 7.07m ahead of her compatriots Irina Simagina and Tatyana Kotova.
Earlier in 2004 Lebedeva had enjoyed a sparkling world indoor championships too, setting an impressive world record.
Given the lingering bitterness Hungary harbours with Russia over their Communist era annexing, the standing ovations given to Lebedeva in Budapest are a measure of her brilliance.
She first took the long jump gold but it was her triple jump that brought the house down when she added 20cm to the old mark to establish a bold new indoor world record of 15.36m.
Copyright 2008 Agence France-Presse.